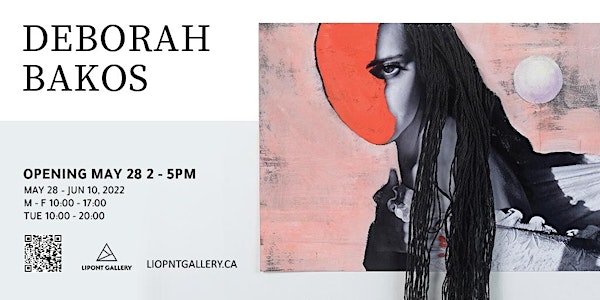 DEBORAH BAKOS - TAKE IT LIKE A WOMEN -Paintings from the She Thread Project
Join us at the opening on Saturday May 28 and meet the artist.
When and where
Location
Lipont Gallery 4211 Number 3 Road Richmond, BC V6X 2C3 Canada
About this event
DEBORAH BAKOS
TAKE IT LIKE A WOMEN - Paintings from the She Thread Project
Opening Reception
Saturday May 28, 2022 2 - 5pm
Exhibition
May 28 – June 24, 2022 free admission
M - F 10am-5pm
Tuesdays until 8pm
Lipont Gallery presents Take it Like a Woman – Paintings from the She Thread Project by Vancouver artist Deborah Bakos.
Opening May 28th, the exhibition of mixed media paintings and found object installations offers viewers a sense of shared history and an opportunity to explore the construction of gender.
Featuring a survey of antique, vintage and contemporary photographs embellished with paint, embroidery, lace and gems, Deborah's work is femininity reimagined.
The main characters in her narratives provide an alternative view of womanhood; the bride holding a beating heart bouquet, the paper-doll groom who has 'lost face', Medusa in a mirror putting on pink lipstick. Accompanying this collection of altered photographs is a selection of the artist's abstract paintings that reference female focused idioms and origin myths. The exhibition also includes found furniture embroidered with text and re-purposed with paint and textile notions. All of Deborah's visual commentaries are aimed at challenging traditional definitions and harmful tropes about women.
Please join us at the opening reception for Take it Like a Woman on Saturday May 28, 2022, 2pm - 5pm at Lipont Gallery, 4211 No. 3 Road, Richmond BC V6X 2C3. The Artist will be in attendance.
The exhibition runs May 28 – June 24, 2022. Admission is free. Gallery hours are Monday - Friday 10am – 5pm and Tuesday 10am – 8pm. Visit lipontgallery.ca online or contact the gallery directly at 604-285-9975.
About Deborah Bakos
Deborah is a mixed media painter and installation artist working in Vancouver's East Side at Parker Street Studios where she has maintained her full-time practice for over 12 years. She is a founding and exhibiting member of the annual Parker Art Salon, and 13 Feet Off The Ground, a collective of traveling, women artists. She holds a Certificate of Fine Arts/Painting from Emily Carr University and a Bachelor of Education in English/Media Literacy from Simon Fraser University. She also studied Fashion Design at the University of the Fraser Valley. Deborah's paintings and installations are informed and enriched by her former career at Richmond's RC Palmer Secondary School where she taught English, Literature and Social studies for 14 years. Her artworks are featured in public spaces, commercial galleries and international publications, with paintings held in collections in Vancouver, Toronto and Canmore Canada, as well as in Istanbul, Turkey, San Jose Del Cabo, Mexico, Treviso, Italy and Graniti, Sicily.
About Lipont Gallery
Established in 2017, Lipont Gallery is devoted to presenting contemporary art by Vancouver-based artists and international artists covering a diverse range of mediums. Our direction is grounded on supporting and highlighting local talent. We are proud to collaborate with a wide range of organizations, on exhibitions that enable the integration of diverse voices to broaden the scope of the current contemporary sphere in our community.