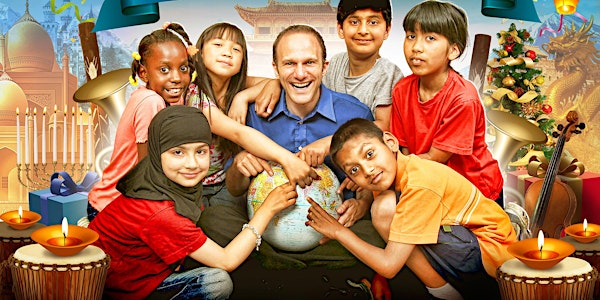 Dec 22 - Chris McKhool's Celebrate! Kids ZOOM Holiday Concert
With Ernie & Maryem Tollar, Aviva Chernick, Suba Sankaran, Shannon Thunderbird, Donné Roberts, Kevin Laliberté, Drew Birston
About this event
Chris McKhool is hailed as a "Children's musical star" (National Post) and "Canada's greatest eco-troubadour for young people." (Mississauga Living Arts Centre) Chris has been delighting audiences with infectious songs and exotic world instruments for over two decades, reaching over 1 million children live in concert. All of Chris' shows feature original songs from his appearances on Mr. Dressup, YTV's Treehouse, TVOntario's Crawlspace and live CBC Television and Radio.
This CELEBRATE! concert:
Inspired by travels around the world, Chris celebrates the multicultural mosaic of our country with songs about Bodhi Day (Buddhist), Carnival (Quebec), Chanukah, Chinese New Year, Christmas, Diwali, Halloween, Kwanzaa (Pan-African), Indigenous Traditions, Ramadan and Winter Solstice. Celebrate! is a window into many cultures from around the world and provides young audiences with a glimpse into the different customs, celebrations and festivities enjoyed in Canada. Traditional and original songs by Chris encourage us to share with our neighbours and friends and celebrate together!
Guest include Ernie Tollar, Aviva Chernick, Maryem Tollar, Suba Sankaran, Shannon Thunderbird, Donné Roberts, and Kevin Laliberté & Drew Birston (from Sultans of String)
"Many have tried but none have come as close to capturing what it means to truly celebrate multiculturalism as Chris McKhool. The Toronto singer-songwriter epitomizes what many Canadians have come to love about this country." – Deanne Fisher, City Parent
"I was impressed by his musical virtuosity and personal appeal…His songs succeed!" -Ernie Coombs, (Mr. Dressup)
This is over ZOOM, which is awesome because it is interactive, and we will be able to see and hear you, and you can see and hear us, and you can all see each other as well! It is a real show in a safe, moderated environment.
Link becomes live at 6:30 pm to get settled and chat with our friends. And make sure you have speakers plugged in if you have them!
Show will last about an hour, including a talk back portion, so bring your burning questions, as we will be opening up the floor for anyone who has always wanted to ask any of the artists about their inspiration, or music, or whatever strikes your fancy.
Pied Piper Kidshows (PPKS):
Pied Piper Kidshows (PPKS) is a volunteer-run, not-for-profit organization that began presenting children's shows in 1979. The mandate of Pied Piper Kidshows is to bring a variety of quality children's entertainment to our community, as well as making the performing arts accessible to as many community members as possible through low ticket prices.
In recent years, PPKS has been growing! With each PPKS performance we coordinate workshops at local schools. Through these workshops and our four performances each season, PPKS reaches over 600 youth annually.
https://piedpipercelebrate.eventbrite.ca