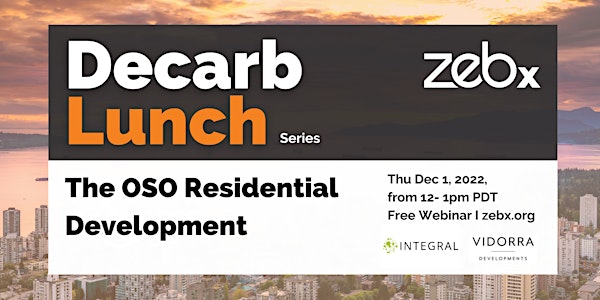 Decarb Lunch: The OSO Residential Development
Join us for our next Decarb Lunch examining the Oso Development Case Study. Step 4, alll-electric, resilient, and cost competitive.
About this event
Last month, ZEBx released the sixth case study from the CleanBC Net-Zero Energy-Ready Challenge Winners series. Funded by CleanBC and managed by Integral Group, the program showcases ten exemplary buildings that aim for the highest levels of the BC Energy Step Code and beyond. But the OSO development isn't just highly energy-efficient – it's also climate-friendly and climate-resilient. Although the building ticks all the boxes, what we think is most special about this development is that the developer/builder, Vidorra Developments, has figured out a way to build these high-performance buildings for less than what it costs to build a code-minimum building. Join ZEBx and our co-host, Integral Group, as we hear about the OSO development and Vidorra's journey to this unique status in the building industry.
Speaker
Rod Nadeau, Managing Partner, Innovation Building Group
Hosts
Lisa Westerhoff, Principal, Integral Group
Roberto Pecora, Director, ZEBx