December 8, 2016 CGS-SOS Christmas Dinner Lecture - The Power of Breakthrough Thinking in Geotechnical Services

Thursday, 8 December 2016 from 5:30 PM to 8:30 PM (EST)
Event Details
Abstract:
Who in geotechnical-engineering services wasn't worried when, just a few short years ago, top economists and bankers were proclaiming a major correction was due for the "dangerously overheated GTA construction market?" Well, we have come to the end of another year in a long string of outstanding years for construction, which, together with strong government spending on infrastructure, again has produced strong demand for geotechnical services.
Business has been good—but not nearly good enough. In a market like this one, any decently managed geotechnical-firm should be highly profitable, especially in light of the following characteristics of the business, every one of which, from a business-strategy perspective, make it a business where profits should be outstanding in a strong market:
Clients risks are proportional to the quality of geotechnical services, including everything from project design to work-product quality to client service.

Client risks can quickly become problems that impact safety, cost and schedule and that also create costly ripple-effects throughout a project. Add in longer-term contingent liabilities involving subsurface risk and the result is failure-averse clients that should be happy to pay more for geotechnical services that reduce risk.

Geotechnical firms that respond quickly and effectively to problems during construction ought to be rewarded by strong client, boosting their share of clients' business and margins.

Ontario's geotechnical professionals constitute a relatively fixed resource that, when demand is strong and utilization rates high, should command premium rates.

Since geotechnical-engineering costs as a percentage of total budget is small, clients should be much more quality-sensitive than price-sensitive.
Given all this, why are geotechnical firms' profits nothing like those in management consulting, accounting and law—all partner-based professional services?
More to the point, why invest in the geotechnical business?
Join Dr. Hart as he explains the profit opportunity in geotechnical services that can be unlocked through breakthrough business thinking.
Speaker:
Dr. Christopher Hart has been a professor of business at Cornell and Harvard, where he taught courses in strategy, marketing, business transformation and operations management. His research and writing have focused on the unique challenges faced by service businesses. His best-seller, Service Breakthrough: Changing the Rules of the Game, translated into 16 languages, was co-authored with Harvard colleagues James Heskett and W. Earl Sasser, Jr.
Chris has written more than 60 articles for academic journal and business magazines. Awards include a McKinsey Article of the Year Award from Harvard Business Review and two Article of the Year Awards from The Cornell Quarterly.
Beyond academia, Chris founded Spire Group, a management-consulting firm specializing in service. Professional service firm clients include Bain and Company, Deloitte, Environmental Resource Management, KPMG, Norton Rose Fulbright (law) and Spencer Stuart (recruiting). Other clients he has counseled on service issues include American Express, Bell Canada, Citigroup, Disney, Federal Express, Fidelity, Four Seasons, GE, Harley Davidson, McDonalds and Marriott.
Chris moved from the U.S. to Canada and now lives in Richmond Hill. Over the last three years, he has consulted with geotechnical firms. Additionally, he teaches Operations Strategy at U of T's Rotman School.

Regards,
CGS-SOS (Toronto Group) Executive Committee

Website: http://www.cgs-sos-toronto.com
When & Where

Pearson Convention Centre
2638 Steeles Avenue East
Toronto, ON L6S 6J9
Canada

Thursday, 8 December 2016 from 5:30 PM to 8:30 PM (EST)
Add to my calendar
Organizer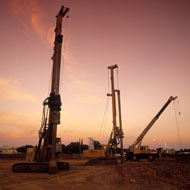 About Us
The Canadian Geotechnical Society Southern Ontario Section (CGS-SOS) represents the national organization at the local level centered at the Greater Toronto Area (GTA) and covering some cities in Southern Ontario. The CGS-SOS was established in the early 1970s and forms the largest region of the Society. Its purpose is to provide opportunities for continuing education (through lectures and seminars), and for constructive dialogue and sharing of experiences. This is accomplished through organizing events on about a monthly basis.
The Canadian Geotechnical Society (CGS) is an independent, federally incorporated, non-profit learned society which exists to serve and promote the geotechnical and geo-science community in Canada. It encompasses a wide spectrum of scientific and engineering disciplines within the geotechnical field. Membership is open to individuals from all sectors including private consulting, universities, industry, contracting and public services.