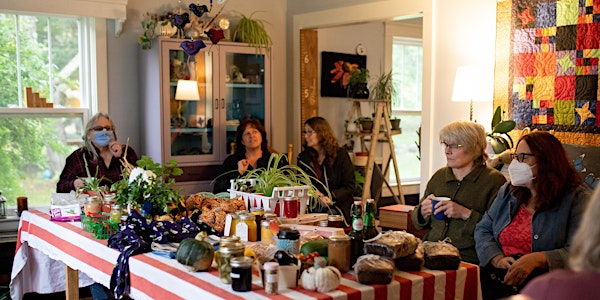 December Makers Swap
Community Makers Swap
When and where
Location
Annapolis Valley Folk School 1963 Clarence Road Paradise, NS B0S 1R0 Canada
About this event
For those who are new to the Makers Swaps, this is a simple community gathering where all ages and abilities are welcome and the concept is simple: bring anything you have made with your hands and trade for treasures from others. There is no money exchanged and PERFECTION IS NOT REQUIRED! Just a willingness to share your talents and passion projects with others in the community. Here are a few insights for those new to the Makers Swaps:
a) All are welcome, bring a friend!
b) Everyone brings what they feel comfortable with giving to the community – there are no limitations or expectations – our definition of fairness is that each person will share within their means and that is always resulted in amazing generosity and abundance.
c) All items brought to be shared will go on to a common table to get blended in with everything else others are sharing. After spending time getting to know each other, we will go up to take items from the table, one item at a time, until each person decides they have taken enough to be "fair" to the community.
Some popular trade able items (to get your creative juices flowing): preserves, pickles and jam, kombucha and shrubs, soaps and beauty care items, plants, baked goods, jewellery, leather crafts, wooden carvings, dog toys and treats, paintings and drawings, vouchers for service trades like haircuts, massages, and prepared meals… Everything under the sun! If you have any questions at all feel free to post in this event on Facebook or email to avfolkschool@gmail.com A
It is also greatly appreciated if you can bring a few pantry items to the swap. Our pantry is increasingly active with many people using it. A few suggestions are crackers, beans, canned pasta, meats, and veggies, apple sauce, fruit cups, macaroni and cheese, pastas and sauces.
Masks are optional but welcome. Thanks for helping keep our community safe!