Last meeting of 2020! Join us to celebrate our accomplishments during 2020!
About this Event
And we have reach December! Last month of this special year!
We know these are difficult times for everyone. COVID-19 has affected our work and personal lives, and we worry about the uncertainty, the future and the status of this pandemia here in Canada and in our home countries.
We have been living this for at least 9 months…
So, for December we propose you to celebrate ourselves! Yes! 2020 has been more than COVID.
Our IWS national network has made amazing progress… Our local chapter too! And we know each one of our members have something to be proud of!
So please think about what had made you proud this year, what have you accomplish, personal, professional, anything you can think of.
So, join us for a virtual get together to celebrate ourselves, reconnect and have a bit of fun! Let's finish the year the best we can hoping for a great 2021!
Looking forward to seeing you there in great number! This will be a relax meet up, feel free to join us while you are cooking dinner, having your dinner, doing laundry, drinking your tea or a glass of wine.
Register here and we will send the link to the videoconferencing the day before the event.
Thanks, IWS Quebec City team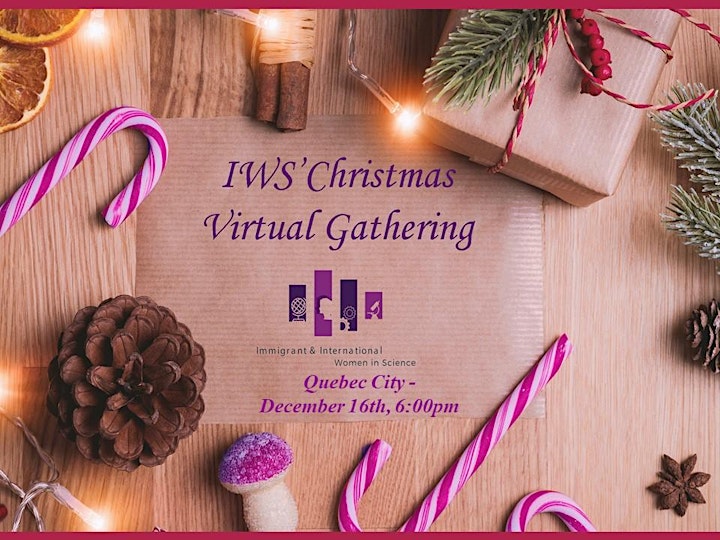 Who can attend:
This event will be primarily tailored to immigrant or international womxn from a STEM background in Quebec City. We welcome everyone interested in respectfully participating in our events to join us.
Participant Agreement:
Mutual respect for individual perspectives.
Listen with generosity and empathy.
Contribute ideas, resources, and experiences.
Confidentiality for any details shared during the meeting.
Hold the space for each participant to share.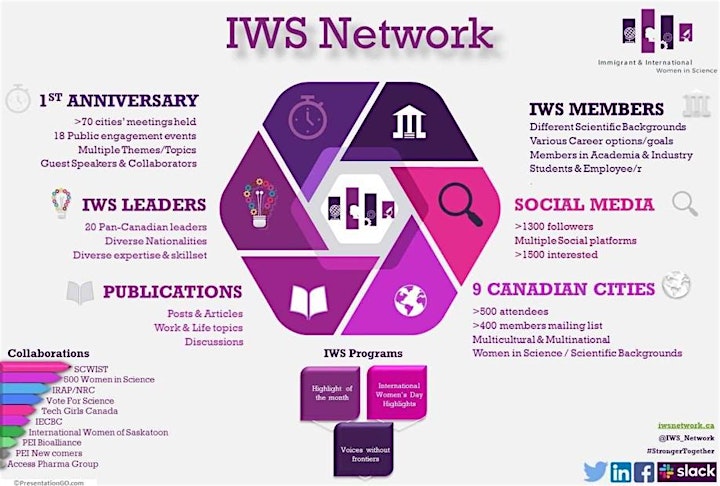 About IWS Network
Immigrant and International Women in Science (IWS Network) is a growing social impact network with chapters across Canada.
Established in 2018, our vision is to build a collaborative environment for immigrant and international womxn in STEM fields that promotes equity, diversity and inclusion in Canada.
We hold monthly meetings facilitated by committed volunteer IWS leaders on various opportunities and challenges unique to womxn from culturally diverse backgrounds.
As a completely self-funded organization, we invite you to support our continued operations by kindly donating when registering. We highly appreciate every dollar contributed!
Past Topics:
2020
Rising Above: Immigrant Journeys - Nov
Navigating Canadian Workplace - Oct
Let's talk about finances for women in Canada - Sep
Summer Socials - Jun, Jul, Aug
Science Diplomacy in times of COVID-19 - May
Scientific career and work-life balance - Apr
IWS_Network Virtual Get Together - Mar
Adapting to a new culture: the Canadian Workplace - Feb
Mental Health in the workplace - Jan
2019
Holiday Mingle - Dec
Workplace Negotiations : Being your best advocate - Nov
Women in Government Science (Webinar) - Oct
Communicating Your Values and Expertise Series I: On Paper - Sep
Summer Socials - Jun, Jul, Aug
Career Transitions - May
Women Entrepreneurs in Science (With NRC-IRAP) - Apr
Cross-Cultural Differences - Mar
Gender Equality - Feb
Building your online professional credibility - Jan
2018
Resolving conflict in the workplace - Dec
Impostor syndrome - Nov
Career tips and advice - Oct
Vision, mission, outcomes - Aug
Networking - Apr-Jul