Dieses Event ist beendet.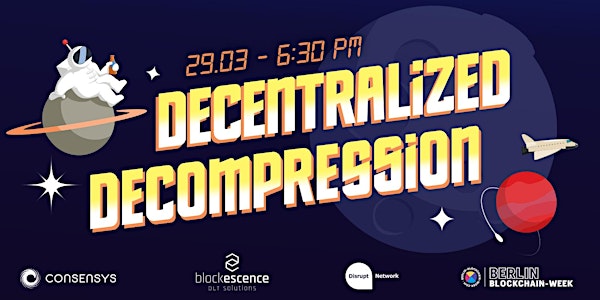 DECENTRALIZED DECOMPRESSION – Berlin Blockchain Week Closing Night
Zeit und Ort
Veranstaltungsort
Mindspace Krausenstraße 9-10 10117 Berlin Germany
Karte und Wegbeschreibung
Beschreibung


Welcome Traveller,

✓ You've received transmissions from the satellites of Berlin Blockchain Week, deciphering hidden signals from newly discovered technologies.
✓ You've stepped on the surface of Planet Blockchain and began to uncover the impact it will have on humankind.


There's one final stop to make.
Location: Mindspace – Krausenstraße 9-10, 10117 Berlin
Launch Time: Friday, 29th of March, 2019 from 6:30 PM to 10:30 PM (CET)
Supplies: Good food, beer on tap and mellow music.

Time to kick off your moon boots, jump aboard our space station, decompress and connect with your fellow blockchain pioneers.
---
Join blockescence DLT solutions, ConsenSys and Disrupt Network as we close out Berlin Blockchain Week in style. Music, food, drinks and a chance to share your new-found knowledge with your peers. No sales pitches, no shilling, no pressure.

Decentralized Decompression is proud to be a part of Berlin Blockchain Week.

https://www.berlin-blockchain-week.com/
Please remember that you will need to present your ticket upon arrival.
By attending this event, you agree that any pictures or videos of you may be available on social media.