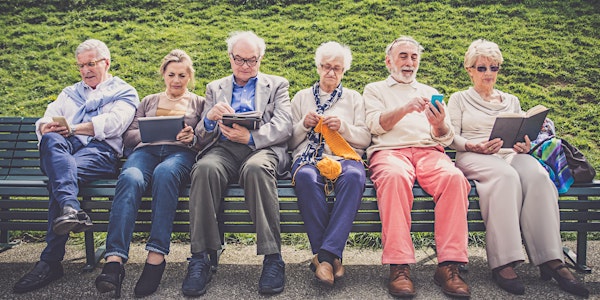 Decimal Lab Speaker Series: Aging and the Digital
Join us for an evening of technocultural questions concerning the imagined and lived dimensions of aging with digital technology
When and where
Location
Centre for Social Innovation 192 Spadina Avenue Atrium Toronto, ON M5T 2C2 Canada
About this event
The goal of this fall's Speaker Series is to highlight the very different and often contradictory understandings of what it means to age with digital technology. Assumptions about aging often go unchallenged and are furthermore reinforced by innovations in technology that are designed on behalf of older adults. With a decided move away from the premise that aging is a problem to be fixed and/or managed by digital technology, the speakers pose a different set of questions, examining the sociocultural, practical and material implications and futures of aging with digital technology.
Featured Speakers:
Dr. Stephen Katz is Professor (Emeritus) of Sociology and Distinguished Research Award recipient at Trent University, co-founder of the Trent Centre for Aging & Society (TCAS), and Co-Investigator of the SSHRC Insight Grant, Quantified Aging and Digital Culture (digitalaging.info). His work has focused on a variety of areas such as aging bodies, critical gerontology, bio politics and sexuality, cognitive impairment, and health technologies. His current research involves partnerships and collaborations on funded projects related to quantified aging and digital technologies, as well as a new book on Self, Mind and Body in Later Life.
Dr. Kirsten Ellison is a Postdoctoral Fellow at Trent University, Canada funded through the SSHRC Insight Grant, Digital Culture and Quantified Aging. She hold a PhD in Communication and Culture (University of Calgary), an MA in Communication and Culture (York University), and an Hons. BA in Sociology (University of Toronto). Broadly, her work examines the intersections of health, science, aging and technology in popular culture. Her independent and collaborative work has appeared in the Journal of Aging Studies, British Food Journal, Journal of Media and Cultural Studies and the International Journal of Cultural Studies.
Dr. Kim Sawchuk is a Professor in the Department of Communication Studies at Concordia University and the director of the SSHRC Partnership Grant, Ageing, Communication, Technologies: Experiencing a Digital World in Later Life (actproject.ca). She holds the Concordia University Research Chair in Mobile Media Studies. Dr. Sawchuk's research focuses on the intersection between age, ageing, and communication technologies, more recently examining the ways in which Web 3.0 is shaping public knowledge of ageing and old age through community-based research with older adults. Her recent publications include Game-based Learning Across the Lifespan (Springer, 2018) a co-edited collection of articles on collaborative media-making with older adults.
Moderator: Barbara Marshall, PhD (Trent University)
Host: Isabel Pedersen, PhD, Director of Decimal Lab (Ontario Tech University)
Please visit our website or email Kirsten at kellison@trentu.ca for more information.