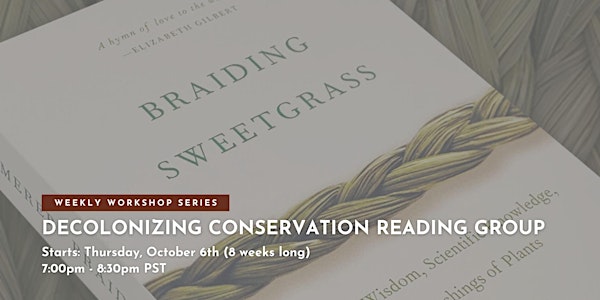 Decolonizing Conservation Reading Group
Join us for an 8 week, weekly reading series as we deep dive into the literature on Decolonizing Conservation Theory.
Refund Policy
Contact the organizer to request a refund.
Eventbrite's fee is nonrefundable.
About this event
In the fall of 2021, the Wild Bird Trust of BC prepared a decolonizing reading group for its volunteers and staff. The main purpose of the group was to build and strengthen our collective understanding of how we can decolonize conservation theory and practice, as well as our own relationships to the Tsleil-Waututh nation, land, and waters.
Chantelle Spicer, the reading group's facilitator, is of Mi'kmaq, Jewish, and Moroccan descent. She has a Master's degree in Anthropology from Simon Fraser University and has worked with the Snuneymuxw First Nation to understand their relationship with Saysutshun—a part of their territory held in the B.C. Parks system.
A reading list, which served as the basis for weekly discussions and activities, was provided for the four-week group. Through this, we explored a variety of topics, including locating our work on Coast Salish territories, Indigenous relationships to urban land and non-human relations, decolonizing conservation and land management, and settler responsibilities and just futures. As a collective, we were able to have important conversations, enhance our understanding of critical issues, ask questions, and learn how to be better neighbours, allies, and builders of strong communities.
This October, we're taking the group to the WBT community as a whole by hosting our first public Decolonizing Conservation Reading Group.
If you're interested in learning about the topics listed above—as well as additional, similar subjects—join us as we work our way through the dialogue and participatory activities outlined for the group. Each week, we will have one and a half hours of facilitated sessions with Senaqwila Wyss and Irwin Oostindie. During these sessions, we'll unpack what we read, ask questions, and better our understanding of decolonization in relation to conservation.
These sessions will run for eight weeks, from October 6th through November 24th. They will take place Thursday evenings from 7 - 8:30 p.m online via Zoom. Files for each of the readings will be sent out one week in advance of the sessions.
KNOW YOUR FACILITATORS:
Senaqwila Wyss is of Sḵwx̱wú7mesh, Tsimshian, Sto:lo, Swiss, and Hawaiian ancestry. She was trained traditionally by her mother, ethnobotanist T'uyt'tanat Cease Wyss. Together, they founded Raven and Hummingbird Tea Co, and share their knowledge and love for indigenous plants broadly.
Chantelle Spicer coordinated the development of the reading group educational materials. She has an Anthropology MA from SFU from her work with Snuneymuxw First Nations to understand their relationship with Saysutshun - a part of their territory held in the BC Parks system. Over the last 15 years, she has been committed to intersecting movements of Indigenous rights, anti-violence, community accountability, and consent. She is Mi'kmaq and Jewish Moroccan.
Melissa West Morisson is 'Na̱mg̱is and Chinese. She is the Nursery Coordinator at the Coast Salish Native Plant Nursery at Maplewood Flats. She has a passion for community-bridge building and land-based education and learning between Indigenous Food Sovereignty leaders and community members while supporting the Nursery in its work of increasing knowledge of and access to traditional plants.
Irwin Oostindie is a Dutch settler and has been identified as a redress activist and accomplice for three decades. He serves as the president of the Wild Bird Trust of BC, and has an MA in Communications at SFU, doing engaged research on issues of place-based redress and how reconciliation functions as a spectacle to perpetuate colonialism. He is currently working on another MA in Urban Studies at SFU.
To register your spot, please obtain a ticket through the ticket link below. If you have any questions, please email: programs@wildbirdtrust.org