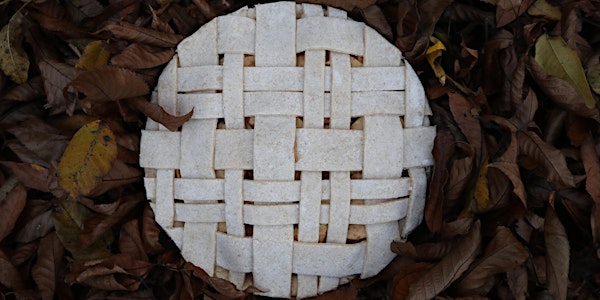 Decorative Pie Workshop (Dec.20.2022)
Learn the tips and tricks for making a perfectly flaky pie dough, and various techniques for creating a deliciously eye catching pie.
When and where
Location
Red Hen Artisanale 384265 Concession 4 Priceville, ON N0C 1K0 Canada
About this event
This Decorative Pie Workshop takes place in a private baking studio, Red Hen Artisanale. It is located across from the beautifully copper clad St. John's Catholic Church in Glenelg Centre along the Saugeen River. More details of locating the studio will be sent upon registration. Get ahead of your Christmas celebration baking by taking a few hours to yourself to enjoy a fun, and delicious workshop!
We will begin the workshop with discussing different types of pie dough, the importance each ingredient plays in the final product, and then get into physically working the butter into the flour to create a delicious, flaky, and very forgiving and versatile pie dough. Bakers will be guided through demonstrations and instructions on how to creatively and individually decorate your pie -- whether it be with intricate lattice work or different cuts outs and textures. During the Decorative Pie Workshop, each guest will create a masterpiece of a seasonal pie to go home with and bake in your oven -- filling your home with a wonderful aroma of fresh baked goods!
To finish off, we will work our way through a guided pie dough tasting session -- tasting and discussing the different types and varieties of fats commonly used in pie doughs...lard..generic butter..high fat butter..grass fed butter. We will be using nothing but high-quality, local ingredients whenever possible. Light snacks and a hot beverage will be provided. Come socialize with like-minded bakers and get busy creating something new with your hands! 
Extra Info: 
COVID?
All workshops will take place in accordance with government guidelines and restrictions in place at the time the workshop takes place. In order to keep everyone as safe and healthy as possible during workshops, masking and spacing may be required by workshoppers, even if this is not enforced by the government at the time. Should the workshop be cancelled due to a government shutdown, guests will be offered the opportunity to transfer their ticket to a future event, or receive a refund. Guests will be asked to monitor themselves for any covid symptoms and refrain from attending if you are unwell. If you cannot attend, you are welcome to send someone in your place.
FAQs
What if I've never baked before and don't really know anything about pies?!
That is totally O.K! This course is designed to appease people of all skill levels. Please come, bring your curiosity and get ready to learn! I am confident that with my assistance, you will have success in this workshop and be empowered with the skills you learn to continue baking at home.
Do I need to bring any tools/aprons/bowls/etc. with me?
Everything needed to complete the workshop will be provided for you. 
What is the refund policy?
All tickets are final sale. Refunds will only be provided should Lauren need to cancel the workshop or the government mandates a shutdown. If you purchase your ticket and you are unable to attend, you are welcome to send someone in your place. Please just email Lauren to notify of the modifications.
How long is the workshop?
The workshop will run from 1pm until approximately 4pm. The time is dependent on how much curiosity and conversation is created throughout the day.
How can I contact the event organizer?
The best way to reach Lauren with any questions is via email at: sourdoughloh@gmail.com
Thinking of attending a workshop and wondering what other people have had to say of past experiences? Check it out!:
"Loved the workshop! A great instructor and a fun group to learn with. My husband and I loved the pie!" - Debbie
"Lauren made our day fun and I learned a lot. Would recommend this class to anyone. Posted my pie on Facebook and got a TON of compliments! Thank you Lauren!"
"Thanks for a great workshop! We thought it was really well done. Your time management between activities while we waited for the dough and how it was all put together was excellent. Let me know when you plan on organizing that one in Jordan, I'd like to bring my mom..she would love it!" - Chad