Decrim: The psychedelics decriminalization movement in North America
Event Information
Refund policy
Contact the organizer to request a refund.
Eventbrite's fee is nonrefundable.
Join leaders of the US and Canada Decriminalize Nature movement to discuss what's next for psychedelics decriminalization in North America.
About this event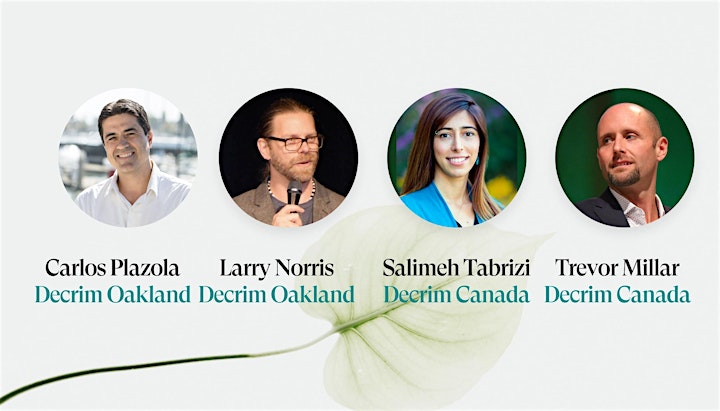 Join Carlos Plazola and Larry Norris, the leaders of the US Decriminalization Nature movement and Trevor Millar and Salimeh Tabrizi of the Canadian Psychedelic Association for an inspiring conversation on the successful Decriminalization Nature Movement in the US. In Denver, Colarado, as well as Oakland, and Santa Cruz, California history was made by decriminalizing psilocybin mushrooms and all federal Schedule I psychedelics. Now nearly 100 cities are considering decriminalization. What will be next for the decrim movement? Will cities such as Chicago, Portland and Dallas be next?
What does the Decriminalization Nature Movement in Canada look like and what is the latest news?
Decriminalize Nature Canada, a multidisciplinary coalition of scientists, mental health workers, healers and advocates has launched a national initiative to decriminalize plant medicines. Their goal is to garner the signatures of 500,000 Canadians by August 16, 2020. The e-petition which was launched in March 2020, currently has over 6,300 signatures and is backed by MP Paul Manly and doctors such as Dr. Gabor Mate and Dr. Evan Wood of the BC Center for Substance Use.
During this powerful time of human evolution and transition on our planet, many of us are being greatly supported and guided by plant and fungi medicines. These entheogens and allies such as Ayahuasca, Cannabis, Mushrooms, San Pedro, and Iboga are helping humans to heal on an emotional, physical, and spiritual level. Whether it is healing and overcoming cancer, anxiety, depression, addictions, trauma, end of life anxiety, and grief, these entheogens are supporting humans to step into their greater self-healing, empowerment, health, wellness, and awakening.
These medicines are encouraging humans to remove blocks to separation and instead open their hearts to a more unified and harmonious way of living with themselves, others and our planet.
Join us on June 17th, 2020, to be part of the conversation and explore ways that you can take part in this powerful initiative and movement!
Date and time
Location
Refund policy
Contact the organizer to request a refund.
Eventbrite's fee is nonrefundable.
Organizer of Decrim: The psychedelics decriminalization movement in North America