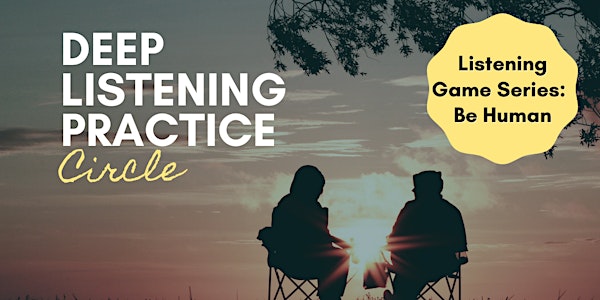 Deep Listening Practice
A practice of reflection that allows us to listen to our inner selves and explore different themes related to being human, together.
Date and time
Mon, Feb 13, 2023 9:00 AM - 10:15 AM PST
Refund Policy
Contact the organizer to request a refund.
Eventbrite's fee is nonrefundable.
About this event
Join us for a unique opportunity to explore the power of deep listening and connection with others.
During this event, we will participate in a listening game called "Being Human," led by Lise Damkjaer.
This game is a tool for reflection and personal growth, allowing us to listen to our inner selves and explore different themes related to being human, such as forgiveness, living in the present, following our passions, and faith.
In small breakout groups, we will reflect and listen to our souls, challenging our belief systems and encouraging growth in a non-judgmental space.
Come experience the transformative power of being present and truly listening to ourselves and others.
To maintain a safe space, PLEASE BE WILLING TO TURN ON YOUR VIDEO during the session.
Practice Agenda:
Introduction
Heart centered meditation
Breakout room to share and listen in a small group
Check out
What We Do:
No advice giving, just listening and sharing what emerges in your experience.
We incorporate silence in our listening
We slow down the way we express ourselves and listen to others
We tap into a full spectrum of responsiveness to include sensing, feeling, and listening through our heart, body, and mind.
*************************************
Support our event by making a donation at https://ko-fi.com/deeplisteningpracticecircle.
Your contribution, whether as gratitude or usefulness, helps make it possible. Thank you!
****************************************
PS: this is NOT therapy session. It is for people who want to deepen their mindfulness practice, cultivate listening skills and learn how to go on together as inter-connected beings.
Guest Facilitator
Lise Damkjaer is a civil engineer who has been working as an independent consultant for over 20 years. The lockdown made her change her way of working into CoCreation: working for a better world, working in harmony with LIFE itself and listening more deeply. In 2016 Lise created the game: Being Human. It serves as a tool for in-depth reflection, team building, and letting our mindsets change at our own pace. Lise currently lives in Denmark.
Your Host
Christine Samuel is a coach, trainer, and facilitator specializing in transformational change and inner work. She helps leaders, change-makers, and their teams cultivate their inner capacities so that they can bring their best selves in dealing with the increasingly complex and challenging environment. She assists clients by utilizing mindfulness, NLP, Solution-Focused Brief Coaching, Soma-awareness, neuroscience, and ancient wisdom traditions.
She lives in Toronto with her husband and two children. Currently, She is working on a book titled Taming the Anxious Mind: Moving from Head to Heart Space, which is scheduled to be released in November 2023.
About the organizer
Christine Samuel is an inner-work and well-being coach. She helps heart-centered leaders develop trust in their innate wisdom and intuition while navigating life transition and fulfillment with ease, clarity, and peace of mind.
She uses mindfulness, NLP, solution-focused brief coaching, somatic awareness, Eastern Medicine based self-care techniques and neuroscience to support her clients.
She can naturally brings someone into their heart space where they experience peace, calm, clarity, and inner-connection with all that they are.
She lives in Toronto with her husband and two young kids. In her spare time, she takes East Indian Classical dance training.
Website: https://innerworkmatters.com
Book a complimentary coaching session: https://www.innerworkmatters.com/1-on-1-coaching
Free access to 2-Part Video Series: How to Navigate Transition with Ease and Clarity (The Secrets that Nobody Tell You): https://www.innerworkmatters.com/get-access
Course/Group Program: Head to Heart Mastery Course: https://www.innerworkmatters.com/head-to-heart