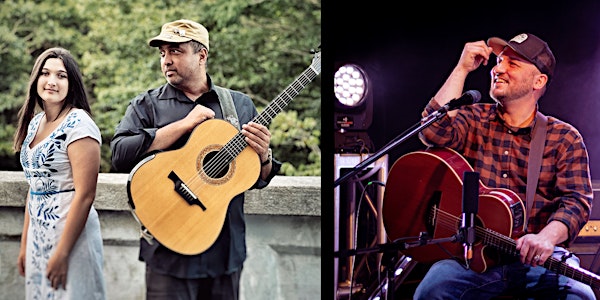 DEEP ROOTS KICKOFF : Asif & Ava Illyas and Curtis Phagoo
The Church Brewing Co & Deep Roots Present: Asif & Ava Illyas and Curtis Phagoo
When and where
Location
The Church Brewing Co 329 Main Street Wolfville, NS B4P 1C8 Canada
Refund Policy
Contact the organizer to request a refund.
Eventbrite's fee is nonrefundable.
About this event
Asif Illyas is a veteran of 30 years in the Canadian music scene. He has won numerous awards for his work in the pop songwriting and producing realm as well as composing for film and TV features. His extensive touring experience in bands over the years has taken him all over the world, performing on stages and in festivals with some of the world's best including Colin Hay (Men At Work), Paula Cole, and producing and writing for Canadian acts like Ria Mae and Ashley MacIssac.
He played guitar for the hit UK 80's group, Cutting Crew ("I Just Died In Your Arms Tonight"), during lead singer Nick Van Eede's reformation of the group in the late 1990's. In the late 2000's, after his success with experimental pop band, MIR, and 8 tours of Germany for the band's major label deal with Warner/EastWest Deutschland, he settled down in his hometown of Halifax Nova Scotia to embark on a successful career of scoring music for dramatic and documentary feature films as well as commercial themes and TV series soundtracks which has won him several major film festival awards and nominations for films like Michael Melski's horror feature, "The Child Remains", Jason Buxton's Cannes Winning "Blackbird", Bruce Macdonald's CSA-winning "Weirdos" and NFB's gorgeous documentary feature, "The Chocolate Farmer" by Rohan Fernando, among many others.
After his daughter, Ava, was diagnosed with Type 1 diabetes at age 2, Illyas decided that his touring days were on hold so that he could help take care of her so, in 2013, Asif released his ECMA award-winning debut solo album, "Synesthesia", where he performed all the instruments himself. Still continuing to have challenges figuring out ways to stay home from touring and create music, in 2018, he released a unique online music show called "Live On The Flight Deck", an aerial version of Seinfeld's "Comedians In Cars Getting Coffee", where he took musician collaborators such as George Canyon and Alan Doyle on flights in a Boeing 737 simulator, hand-crafted by himself, above places they toured which brought him national media attention.
In 2020, he released "Arrows" exclusively online during the pandemic lock-down and learned the skills for producing high-quality online performances which, after a stint in 2021 with severe Covid-19 in hospital, led to his current YouTube series released in 2022 called "The Songs That Shaped Me".
With, now 15-year-old, Ava, he is showcasing songs that have been special to him during his life, going year by year, from 1978 to the present. They livestream the performances, raw and real, and Asif uses a new technique he learned recently of "percussive guitar" which aims to make the acoustic guitar have rhythm accompaniment all at once. Along with Ava's talented ear, they perform intimate, acoustic versions along with original songs written during Asif's extensive career.
He lives in Halifax with his wife and two children, continuing to perform when possible and creating film and multimedia music. Currently, along with his performance series, he is creating the musical score for the new main stage production by the world-renowned Mermaid Theatre along with several themes for TV.
A prairie singer songwriter from Alberta, Curtis Phagoo has one foot firmly planted in roots music, leaning on storytelling, truth, fiction, dark, and light. His other foot wanders in pop, and world music, free to be inspired by anything with a moving lyric.
His record "When We Were Young", produced by Heath West @ Melodious Design is a collection of "heart on his sleeve" confessionals.
The current singles "If I Could I Would", and "Makin' Hay" feature Pedal Steel, Dobro, and Mandolin. One a plea to a lover, the other a plea to a creator. They set the tone for this diverse record and showcase Phagoo's lyrical prowess and ability to tell it straight with waterfalling cadence and rhyme.
Curtis has spent the last few years playing songwriter shows across western Canada under the banner "Behind The Grind", a songwriter showcase in which he has toured 50+ shows from Vancouver Island to Winnipeg, and a series he produced in Red Deer that features 25 songwriters in 6 months.
He has penned songs for Sean Burns, Levi Cuss, and Ryan Carnduff.
"What makes Phagoo such a good singer is his relaxed approach which leaves room for other components of the tune to shine. With awesome stringed Instruments that add nuanced licks and twangy delight, the atmosphere of the track is folk country at its best."
-Michael Collins, Glasse Factory
"Well, Phagoo's song is about farmers. It's got a great classic 70s style of narrative folk. It reminds me of something that could have come from the Ramblin Jack Elliott camp of storytelling folk music. "
- Greg Jones, Ear To The Ground
Prices shown reflect the cost of the entire table.
Tickets are purchased by the table *
Each seat cost $20/person + HST
Concert starts at 7:00PM
* limited individual tickets are now available for seating at the bar
Doors open at 6:00PM. Your table is not guaranteed until 7:00PM.