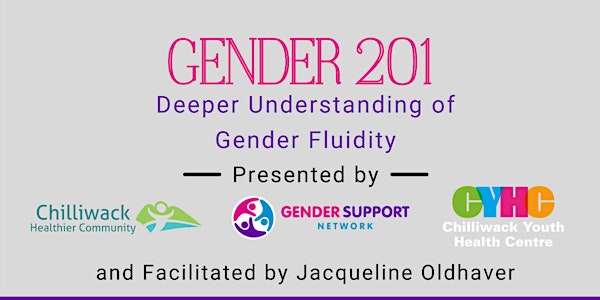 Deeper Understanding of Gender Fluidity (Gender 201 Lunch & Learn)
Learn about the role of Two-spirit in Indigenous culture, challenges in families with divergence, and experiences of LGBTQIA+ seniors.
About this event
In this follow up to Jackie's Gender 101, "Why is Gender Important?" we will learn more about:
the role of Two-Spirit in Indigenous culture
challenges faced by children, youth and their caregivers with divergence in their family
unique experiences of Senior members of the LGBTQIA+ community.
Please note: The workshop content runs from 12:00-1:00 pm with the room open until 1:30. Jackie invites and encourages you to stay for questions and discussion to engage and learn more.
Book a Gender 101 & 102 Lunch & Learn: If you would like to book a lunch-and-learn for your organization, in person or virtual, email Sabine at director@chilliwackhealthiercommunities.ca.
Contact director@chilliwackhealthiercommunity.ca to let us know your access needs for this event, for instance speech to text, font size or colours on slides.