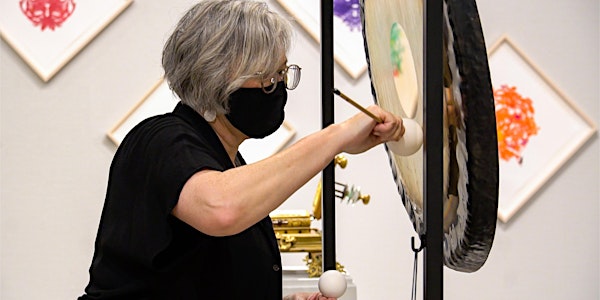 Multiple dates
Deeply Listen, Breathe, and Take a Sound Rest
Join in for a chill-out session -- breathing and meditating on sound and silence -- Thurs May 12, in person, at University of Regina.
Date and time
Thu, May 12, 2022 1:00 PM - 1:45 PM CST
Location
University of Regina Education Building 3737 Wascana Parkway Regina, SK S4S 0A2 Canada
About this event
Chill out and rejuvenate your system on Thurs May 12 from 1:00PM - 1:45PM at the University of Regina, Sound Studio, ED 242 (Education Building).
During this 45-minute session, Stacey will briefly introduce one of the themes from her ethnographic studies with gong teachers - the theory and practice of 'deep listening' (Oliveros, 2005). Next, we will meditate on our breath, improvised soundscapes (Stacey will play a 32" Meinl mirrored gong), and share in the richness of silence after sound saturation.
This event is free and sponsored in part by the Humanities Research Institute (HRI) at the University of Regina.
As per U of R policy, wearing a mask for this event space is required (see https://www.uregina.ca/term-updates/).
Bring a yoga mat if you'd like to lay down. Chairs will be provided.
Maximum registration is 18 participants. In the event you are unable to attend after registering, please cancel your registration so another participant may register. After 18 have registered, there will be a waitlist in effect; put your name on the waitlist to be informed if someone is unable to attend.
About the facilitator:
Since 2019, Stacey Bliss, PhD, has been an online sessional instructor at the University of Regina in the Faculty of Media, Art, and Performance (MAP), and is a guest scholar with HRI from 2021-2022. Her UR community meditation sessions began as weekly online sessions in Nov 2020 during the pandemic. She is thrilled to be a guest scholar of HRI, and offer this session on May 12, live and in person.
Stacey is trained to teach kundalini yoga and meditation, restorative yoga, and has studied mindfulness at Thich Nhat Hanh's Blue Cliff Monastery in Pine Bush, NY. She has had several years of personal practice with Gurmukhi mantra as well as Vedantic traditions. Stacey has studied the ways and Art of Gong with Don Conreaux in New York, Toronto, Shanghai, and India. Contemporary influences on Stacey's mindfulness and meditation offerings include Thich Nhat Hanh and Rev. angel Kyodo williams.
Her scholarly research interests include communities of practice, ethnography, sound studies in education, multiliteracies, and critical studies in improvisation. Find out more at www.blissresearch.org
Main event photo: Stacey Bliss at Art Gallery of Regina/Neil Balkwill Centre courtyard in June 2021 (photo credit - Evie Ruddy). Photos below: Sponsor: Humanities Research Institute, U of R; Stacey at the mirror gong (photo credit - Evie Ruddy).
Stacey is currently living, writing, and teaching from the traditional territories of the people of the Treaty 7 region in Southern Alberta (in Calgary), which include the Blackfoot Confederacy (comprising the Siksika, Piikani, and Kainai First Nations), the Tsuut'ina First Nation and the Stoney Nakoda First Nation as well as the Northwest Métis – Region 3.
About the organizer
Gong Sound Space events are curated by Stacey Bliss. She organizes and facilitates events featuring meditation, sound relaxation, and gong trainings in Canada and internationally. Stacey holds a doctorate in Language, Culture, and Teaching from the Faculty of Education at York University, Toronto, Canada. She has been an educator in Canada, Japan, and Korea for over 25 years. Since 2014, she has also taught yoga, meditation, and the art of gong playing. In 2017, she began ethnographically studying with yogis and gong players, and she continues to explore Sound Studies in Education and Critical Studies in Improvisation. Stacey is a SSHRC Insight Development Grant recipient (2021-2023) and she is thrilled to be conducting research for her project titled: Toward a Sound Pedagogy: A Sonic and Performative Ethnography of 'Sound Healers' in Canada.