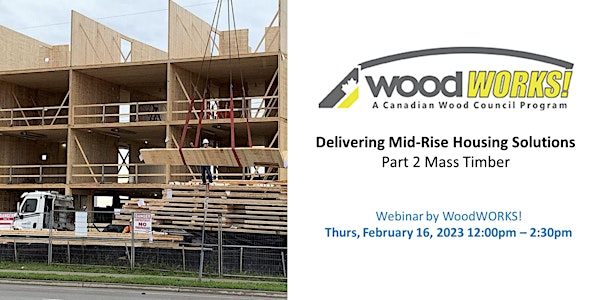 Delivering Mid-Rise Housing Solutions – Part 2 Mass Timber
Join industry experts at this webinar where we discuss mass timber solutions for the cost-effective delivery of multi-unit housing.
Date and time
Thu, Feb 16, 2023 9:00 AM - 11:30 AM PST
About this event
Description
WoodWorks! Ontario proudly presents Delivering Mid-Rise Housing Solutions Part 2: Mass Timber. A look into using mass timber for residential projects from 4 to 12 stories. We will discuss some recently completed projects using mass timber and their project success. Excited to hear from such a range of views from architect, engineer, timber supplier and contractor.
- Optimizing mass timber for Mid-Rise and Tall Buildings up to 12 stories high
- Encapsulated Mass Timber code provision to the Ontario Building Code
- Benefits of early design coordination with timber supplier and contractor
- Construction speed with offsite prefabrication using mass timber
- Project considerations for making mass timber more of a price competitive option
- Mass timber sustainability and embodied carbon
Webinar Highlights
YWKW is a supportive housing project that obtained funding from the Federal Rapid Housing Initiative in Kitchener. This project optimized mass timber design that resulted in time and cost savings during construction. We will hear from the perspective of Element 5, Edge Architects, RDH and Melloul Blamey. They will discuss how important preconstruction planning is and getting all parties involved early. Each role will discuss their roles that lead to a quick and successful project.
Eva Chau and Mehrdad Jahangri from Aspect Engineering join us in discussing encapsulated mass timber construction and the requirements into the Ontario Building Code. Mass Timber has many benefits over concrete and steel from sustainability, time of construction and occupant health. Tallwood 1 is the first 12-story mass timber-steel hybrid building in Canada. They will share be sharing lessons learned on this project and considerations needed to make tall mass timber buildings a competitive option.
Agenda
12:00pm – 12:30pm – WoodWorks Introduction – Project Support, Sustainability Tools
12:30pm– 1:30pm – Project Team on YWKW, 4 Storey Rapid Housing project in Kitchener
1:30pm – 2:30pm – Aspect Engineering, Encapsulated Mass Timber, Tallwood 1 Project