Get ready bingo fans, this is the only bingo series where you could win CASH PRIZES from the comfort of your living room!
About this Event
Bingo Bundle:
1 Strip $5* (1 single strip, 3 faces)
3 Strip Bundle $15* (3 single strips, 3 faces per strip)
6 Strip Bundle $30* (6 single strips, 3 faces per strip)
10 Strip Bundle $50* (10 single strips, 3 faces per strip)
Game Date:
Wednesday, November 25, 2020
Time: 7pm
Place: Delta Bingo & Gaming's live video page
Ticket Sales/Bingo Package:
Tickets on sale: Wednesday, November 18, 2020 at 9pm.
You must purchase your Bingo strip(s) ('ticket') online through Eventbrite. Sales close Sunday, November 22, 2020 at noon, or when sold out. LIMITED TICKETS AVAILABLE! Tickets must be picked up at the Delta Bingo location specified at check-out.
Curbside Pick-Up:
Pre-paid Bingo packages will be available for curbside pick-up on Tuesday, November 24, between 10am-8pm and Wednesday, November 25 between 10am-5pm ***(See below exceptions for Hawkesbury and Pembroke) at the Delta Bingo location of your choice. Packages will only be released to the person who is named on each individual ticket, with proof of ID. Packages will NOT be released to the purchaser if they are not named on the ticket. Please ensure that all named ticket holders are present for pick-up. If you are picking up on someone's behalf, your name must be on the ticket. Must have Government-Issued photo ID for pick-up.
***Delta Hawkesbury and Delta Pembroke will only offer curbside pick-up on Tuesdays from 4pm-8pm and Wednesdays from 10am-5pm.
*Please note: Packages MUST be picked up on November 24 between 10am-8pm OR November 25 between 10am-5pm, at the location specified at check-out. Pick-up location cannot be switched after check-out is complete. In order to verify player's age, each ticket holder must pick-up their own bingo package. Must have proof of purchase and Government Issued Identification to pick up your bingo package.
Game Play:
On game day, those who have registered and picked up their cards will follow along with the live broadcast Bingo game on Facebook Live Stream video. Ball Calls will take place over Facebook Live. Caller will appear in the stream at game start. You must have access to a valid Facebook account to participate. Log-in to your Facebook account and visit Delta Bingo & Gaming's live video page to watch the live stream and play along! If you complete the required pattern, type BINGO and your card number into the comment section of the live stream video. Game will be paused to verify each potential Bingo. Each verified winner(s) will receive the associated prize. In the case of multiple winners, the prize is divided evenly. Must bring in winning card to the designated Delta Bingo & Gaming location selected at check out in order to collect prize.
What you are playing for:
November 25:
Top 2 Lines - $1,000 (min)
Outside Square - $2,000 (min)
Full Card - $5,000 (min)
*Plus applicable fees. All funds are in Canadian dollars. 'Tickets' are non-refundable. Must be 18+ to play. Must be able to present Government Issued Identification. Limit of 10 'bundles' per transaction. Open to Ontario, Canada residents only. By completing purchase, you are signifying that you have read and understand the terms and conditions.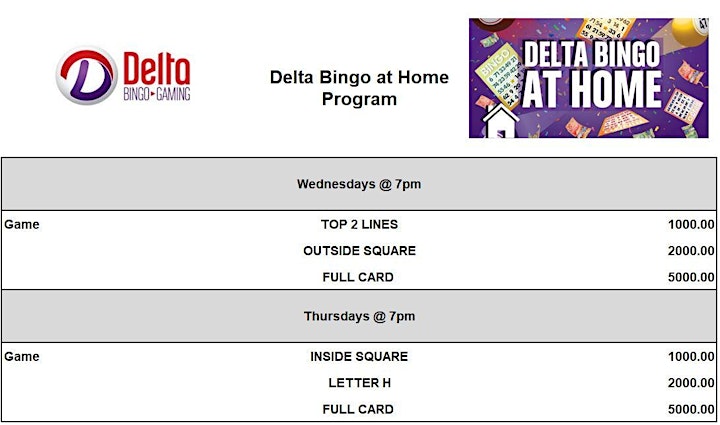 Date and Time
Location
Refund Policy