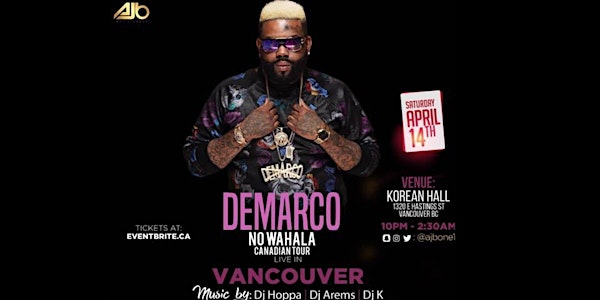 Demarco live in Vancouver
When and where
Location
Korean Hall 1320 East Hastings Street Vancouver, BC V5L 1S3 Canada
Description
Demarco live performance in Vancouver. "NO WAHALLA CANADA TOUR"
Demarco
He is best known for his hit singles "Duppy Know Ah Who Fi Frighten", featuring on the Shoot Out Riddim, "Fallen Soldiers", "True Friend" and "Show It (So Sexy)".
He also produced the Top Speed Riddim where he recorded the song "Gal Dem Want" with the Alliance leader Bounty Killer.
In 2008 Demarco produced the Big League Riddim and recorded "Broomie" with Elephant Man and his own song "Spend Pon Dem".
One Year later he produced a hit Riddim called Stress Free which had many hit songs like "Jump and Wine" by Tony Matterhorn, "Hammering" by Singing Craig, "Work Mi Ah Work" by Mister G and his own "She Can't Wait". He recorded a remix to Rihanna's Billboard #1 hit "Rude Boy".