Vous avez besoin d'aide pour votre lancement d'entreprise ou de projet? Do you need help with launching your business or creative project?
About this event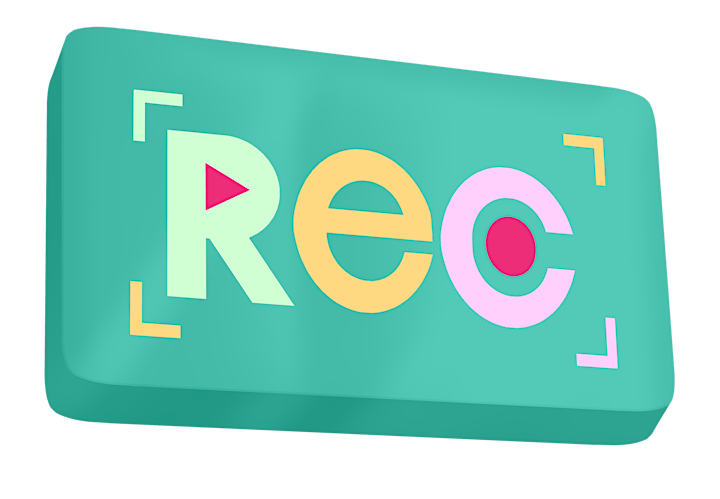 À propos de l'événement
REC est une convention complète d'une demi-journée dédiée aux influenceurs, à la communauté d'artistes et aux entrepreneurs créatifs qui veulent donner vie à leurs idées, partager leur vision et apprendre les uns des autres.
Cet événement propose des panels interactifs, des ateliers et formations de création très enrichissants pour l'expérience de chacun dans cet univers de réseaux sociaux en pleine expansion.#bycreators4creators
Cette édition est conçue pour vous aider à lancer votre entreprise et recevoir de la clarté sur vos projets créatifs auxquels vous vous impliquez.
About The Event
REC is a half-day convention dedicated to influencers, artists and creative entrepreneurs that offers interactive panels, activities, workshops and Creator Labs that also enriches your experience in this ever-expanding social media universe. #bycreators4creators
This edition is designed to help you with launching your business and finding clarity in creative projects you are involved with.
Cet événement est idéal pour:
Des individus passionnés par le lancement d'entreprise et / ou de projets créatifs
Les personnes qui cherchent à devenir ou à s'intéresser à la vie d'un influenceur et / ou d'un pigiste
Les individus qui veulent travailler sur leur image de marque personnelle pour attirer plus d'affaires / bouleaux
Créateurs de contenu et influenceurs cherchant à travailler sur leur marque pour trouver des moyens de générer plus de revenus avec leur métier
Les créateurs de contenu recherchent la clarté et ont besoin d'inspirations créatives pour leur contenu
Entreprises existantes cherchant à faire ressortir leur côté créatif
Entreprises existantes souhaitant travailler sur leur image de marque
Entreprises existantes à la recherche de clarté, d'inspiration et de perspective extérieure
Entreprises existantes souhaitant travailler sur leur marketing
Ouvert aux adolescents et plus
This event is great for:
Individuals passionate into launching their business and/or creative project
Individuals who are looking in becoming or interested in the life of an influencer and/or freelancer
Individuals who want to work on their personal branding in attracting more business / work
Content creators and Influencers looking in working on their brand to finding ways of making more revenue with their craft
Content creators looking for clarity and need creative inspirations for their content
Existing businesses looking to bringing out their creative side
Existing businesses looking to working on their branding
Existing businesses looking for clarity, inspiration & outside perspective
Existing businesses looking to working on their marketing
Open to Teens and up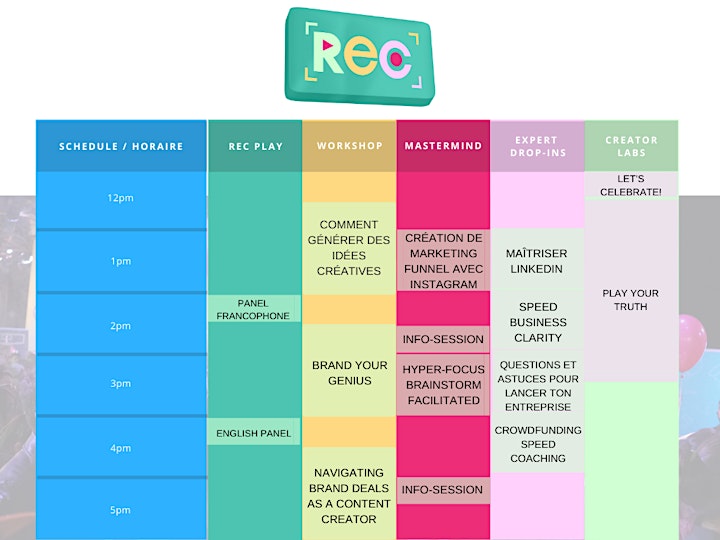 REC se déroule sur divers emplacements avec des sessions en simultanés. Une planification stratégique nécessite pour maximaliser votre expérience.
Pour consulter le calendrier de l'événement et recevoir plus de détails, visitez www.recmtl.com
At REC, multiple sessions take place at the same time in various rooms, it is crucial to making a strategic planning in what you want to attend.
To consult the event schedule and receive more details, visit www.recmtl.com
Que retirerez-vous de cet événement?
Produire du contenu TikTok, comprendre la culture de la plate-forme - ATELIER 12h30-14h00
Commencer un Funnel Marketing sur Instagram - MASTERMIND 13h-14h
Avoir un profil Linkedin optimisé - COACHING 13h à 14h (Bilingue)
Obtenir le point de vue des entrepreneurs prospères - PANEL 14 h - 2h30
Trouver un but dans ce que vous faites - COACHING 14h - 15h (Bilingue)
Trouver de la clarté dans votre entreprise - COACHING 14h-16h (Bilingue)
Aidez-vous avec votre image de marque - ATELIER 14h30-16h (Bilingue)
Les étapes dont vous avez besoin pour lancer votre entreprise - COACHING 15h-16h (Bilingue)
Vous aider à trier vos idées créatives - MASTERMIND 15h-16h (EN ANGLAIS)
Créer du contenu créatif pour votre marque - MASTERMIND 15h-16h (EN ANGLAIS)
Comprendre le financement participatif et recevoir du financement pour votre entreprise et / ou vos projets créatifs - COACHING 16 h-17 h (Bilingue)
Comprendre la vie des influenceurs - PANEL 16 h-16 h 30 (EN ANGLAIS)
Comprendre les contrats lorsque vous travaillez avec des marques - ATELIER 16h30-18h00 (EN ANGLAIS)
Comprendre les lois et les réglementations dans la publication de publications sponsorisées - ATELIER 16h30-18h00 (EN ANGLAIS)
Comprendre les principes de tournage et de montage mobiles - ALL DAY Creator Lab
Les COACHINGs sont des sessions de 15 à 20 minutes auxquelles vous pouvez assister à tout moment offerts.
What will you get out of this event?
Producing TikTok Content, understanding the platform's culture - WORKSHOP 12:30PM-2PM (In FRENCH)
Start a Marketing Funnel on Instagram - MASTERMIND 1PM-2PM (in FRENCH)
Having an optimized Linkedin Profile - SPEED COACHING 1PM-2PM (Bilingual)
Getting insights from successful business entrepreneurs - PANEL 2PM-2:30PM (in FRENCH)
Finding Purpose in what you do - SPEED COACHING 2PM-3PM (Bilingual)
Finding clarity in your business - SPEED COACHING 2PM-4PM (Bilingual)
Help you with your branding - WORKSHOP 2:30PM-4PM (Bilingual)
The steps you need in launching your business - SPEED COACHING 3PM-4PM (Bilingual)
Help you sort out your creative ideas - MASTERMIND 3PM-4PM
Coming up with creative content for your brand - MASTERMIND 3PM-4PM
Understanding crowdfunding and receiving financing for your business and/or creative projects - SPEED COACHING 4PM-5PM (Bilingual)
Understanding the lives of Influencers - PANEL 4PM-4:30PM
Understanding contracts when working with brands - WORKSHOP 4:30PM-6PM
Understanding the laws and regulation in publishing sponsored posts - WORKSHOP 4:30PM-6PM
Understanding Mobile Filming & Editing principles - ALL DAY Creator Lab
SPEED COACHING are 15-20min drop in sessions which you can attend anytime it is being offered.
NOTE : Pendant l'événement, nous allons prendre des photos et filmer des images vidéo pouvant être utilisées à des fins publicitaires ou d'archivage. Il est possible que nous puissions vous reconnaître dans l'une de ces photos ou de cette vidéo. En participant à cet événement, vous acceptez d'être photographié et filmé et autorisez les organisateurs à utiliser des images imprimées, numériques, vidéo ou électroniques à des fins publicitaires ou d'archivage y inclut dans le newsletter, les réseaux sociaux ou d'autre publication web. Veuillez nous avisez si vous préféré de ne pas avoir votre image publié, aucun stress, ni obligation.
En participant à cet événement vous consentez à faire partie de notre newslettre - vous pouvez opt-out à tous moment
Aucun remboursement - Voir plan de protection d'Eventbrite lors de votre achat.
During the event, we will take pictures and video footage that can be used for advertising or archival purposes. It is possible that we can recognize you in one of these photos or this video. By participating in this event, you agree to be photographed and filmed and authorize the organizers to use printed, digital, video or electronic images for advertising or archiving purposes including in the newsletter, social networks or other web publication. Please notify us if you prefer not to have your image published, no stress, no obligation.
By participating in this event you agree to be part of our newsletter - you can opt-out at any time
No refund - See Eventbrite Protection Plan when you purchase.
Refund Policy
No Refunds
Si vous avez besoin d'aide pour décider si cet événement est pour vous, ou si vous avez besoin d'aide pour établir votre plan de la journée, n'hésitez pas à nous écrire à info@recmtl.com ou à nous appeler au (514)-295-5114 tous les jours de la semaine à partir de 10 h 00. 18h (hors vacances)
If you require help deciding if this event is for you, or need help in building your schedule, feel free to write to us at info@recmtl.com or call us at (514)-295-5114 everyday of the week from 10am-6pm (off on holidays)
Copyright © 2020 Creator HQ, All rights reserved.- Tous droits réservé
La communaté des créateurs web du Québec
Community of Content Creators of Quebec & beyond