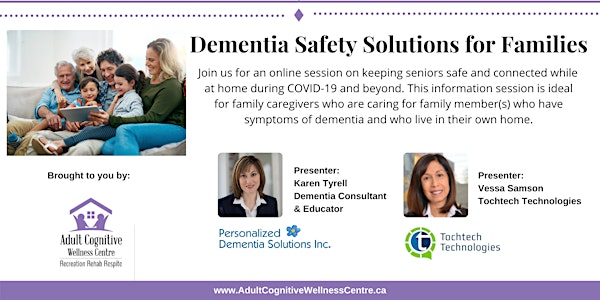 Dementia Safety Solutions for Families - At Home
Keeping seniors safe and connected while at home during COVID-19 and beyond.
About this event
This info session is mainly for family members who live in BC Canada and who are caring for someone with dementia who live in their own home.
The talk is being held from 1:00pm - 2:30pm PST (Vancouver, Canada)
Karen Tyrell, CDP, CPCA, CDCP - Canadian Dementia Consultant & Educator will be sharing general information about dementia and Vessa Samson of Tochtech Technologies will share some helpful technology solutions to support safety in the home. There will be an opportunity for Q&A after the session.
This event is being sponsored by Adult Cognitive Wellness Centre: www.AdultCognitiveWellnessCentre.ca
3 days before the event, you will receive an email with the link to attend this 1.5-hour online session. We will be using Zoom Conferencing. It is free to use. :)