Démonstration des LiDARs Vx et Surveyor dans le Sud de la France!
About this Event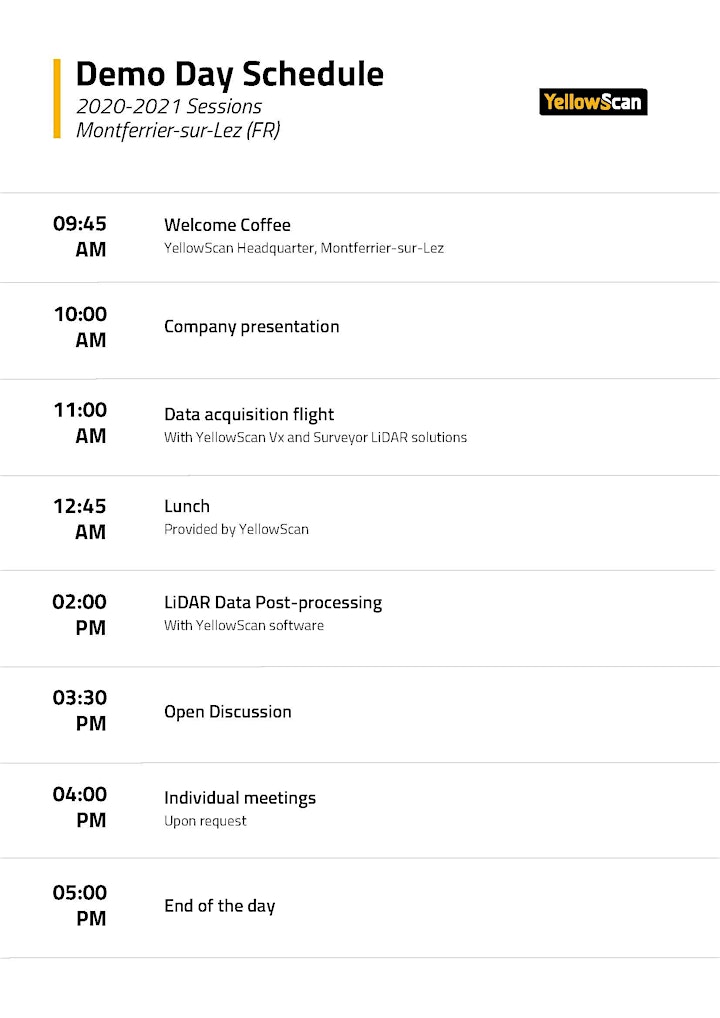 Démonstration des LiDARs Vx et Surveyor dans le Sud de la France!
LiDAR Vx and Surveyor Demo in the South of France!
La démonstration aura lieu en français.
The demonstration will be in French. If needed some of our team members could translate into English or Spanish.
Assistez à la démonstration des deux LiDARs phare de YellowScan le 26 août 2020!
- Le Vx-20 est LA solution multi-écho(jusqu'à 5 échos), longue portée et haute précision pour le génie civil ou la forêt.
- Le Surveyor est la solution légère et précise pour vos projets en génie civil, topographie ou minier.
------
Les systèmes LiDAR sont réputés pour la modélisation 3D sous la végétation et le traitement rapide des données. Le Surveyor et le Vx-20 YellowScan seront en démonstration sur le DJI M600 Pro.
Planning :
N.B. L'accueil sera accompagné de café, thé et croissants. Le déjeuner au restaurant le Cygory est également inclus.
Demo Days 2020
Tout le monde parle du drone LiDAR - l'ingénieur en planification, le forestier impliqué dans le calcul d'arbres, les entreprises de construction participant à de grands projets pour le modéliser avant, pendant et après sa mise en œuvre ou les entreprises de services publics pour leur cartographie des couloirs et la gestion des infrastructures.L'objectif de cette journée est de montrer ces outils de haute technologie que sont nos systèmes dans un environnement de travail réel et de démontrer à quel point il est facile de générer des données topographiques avec le drone LiDAR.Au cours de cette visite, vous découvrirez les dernières solutions et les cas d'utilisation de YellowScan ainsi que ses partenaires grâce à des conférences, des ateliers et des discussions ouvertes.
A bientôt dans nos bureaux à Montferrier-sur-Lez.Nous nous réjouissons de vous rencontrer !