DemoCampHamilton13
When and where
Location
Mohawk College - The Arnie Student Pub 135 Fennell Avenue West Hamilton, Ontario L9C 1E9 Canada
Description
DemoCampHamilton13 Details
---
When:
Tuesday September 24th, 2013 from 6:30pm to 9:00pm
Where:
Mohawk College - The Arnie Student Pub
What:
DemoCamp
is an event format that involves a keynote speaker, about 5 software demos which each consist of 5 minutes of actually demoing the software and 5 minutes of Q&A, followed by general socializing with the good company in attendance.

Keynote Speaker
---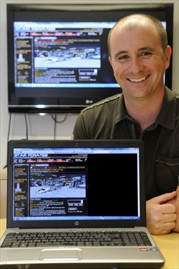 Colin Ferguson
Co-founder of Snakehead Games
As Managing Director of Snakehead Games, Colin Ferguson handles many of the business side functions. Primarily this means leading the strategic process and ensuring SHG has the right staff and all resources for effective implementation.
Colin is team lead on various other projects, including the new Jewels Star! Mobile Game. As with all members of Snakehead Games, Colin plays www.starpirates.net and www.spybattle.com on a daily basis, and is known as AdminArrBilly (AAB) in the SHG community.
After an International award-winning online Marketing career promoting others' offerings, Colin started his own firms. He first developed an online social media startup, then in another venture built over 1000 high traffic websites. In 2008 he cofounded Snakehead Games and has not looked back.
Sponsors
---
Demos
---
Demo 1
World Exclusive first public demo of 'Supreme Ruler 1936' by BattleGoat Studios (@BattleGoat).
Demo 2
SOAP Vault (@SOAPVault) is a Software-as-a-Service solution for massage therapists to document their treatment (SOAP notes). Currently most massage therapists document this kind of information on paper. SOAP Vault removes the paper from the process and improves the efficiency of creating SOAP notes to under 60-seconds a note.
Demo 3
Todd Dow (@toddhdow) is going to demo Cryptogeddon (@Cryptogeddon), an online cyber security war game. The game consists of various missions, each of which challenges the participant to apply infosec tools to solve technology puzzles – an online scavenger hunt, if you will.
Demo 4
AdvanTag (@AdvanTagme) is a near field communications powered, digital loyalty and social media incentives company. The team is based out of the Don Pether Incubation Center at the McMaster Innovation Park on Longwood Drive. AdvanTag specializes in providing small, medium and large sized businesses with an easy to setup, low-cost platform that delivers measurable loyalty, social media campaigns and gamification.
Demo 5
Dan Zen (@DanZen) will demonstrate Tilty - his new mobile game and follow up to Touchy. Be prepared for some crowd interaction as you try to tilt your friends. Proudly made in Hamilton.
Demo 6
Qriffic (@Qriffic) is a queue management web app to better service your waiting customers by using their mobile phone and SMS technology. Don't make your customers wait in line. Have their mobile phones do it instead.
E-mail democamp@softwarehamilton.com if you are interested in demo-ing at a future DemoCampHamilton.