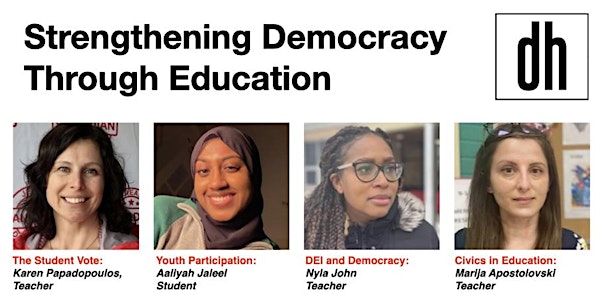 Democracy House Annual Meeting
Please join the Democracy House for an engaging evening as we explore the topic of strengthening democracy through education.
About this event
Please join us at our fourth annual evening with The Democracy House
As we all watch in horror the deranged invasion of the Ukraine, we are awed by the spirit and resolve of Ukrainians to defend their land and defend their democracy. In the movie The American President the character Andrew Shepherd says 'democracy isn't easy. Democracy is advanced citizenship. You've got to want it bad.'
Ukrainians want it bad - they're willing to die for it.
In countries like Canada and the United States the peace and comfort of our lives risks making us complacent – perhaps taking democracy for granted.
The future of democracy around the world is at risk. While Ukrainians are fighting to save it, we'll explore how we can instill in the next generation the deep felt urgency of wanting democracy and wanting it bad.
On March 30th we will be joined by special guests who will share their stories and experiences of engaging with democracy.
The evening is sure to amaze and inspire as our special guests share some of the many ways that our schools in Canada work to instill a respect and pride in democracy.
For this event, we're delighted to welcome an amazing team of educators and students to come and tell us about some of the great programs in schools and provide an opportunity to discuss what more can be done here and around the world.
The Student Vote: - Karen Papadopoulos
Karen is enjoying her 25th year of teaching with the Durham District School Board. She has spent most of those years as a Teacher Librarian but has also taught English, History and recently Co-op. She has always enjoyed working with teenagers and kept busy with trying new initiatives and staying curious.
Student Trustees and the Importance of Youth Participation - Aaliyah Jaleel
Aaliyah is a first year computer science student at the University of Toronto. Aaliyah was elected as Student Trustee of the Durham District School Board for the 2020/2021 school year, advocating for the voices, well-being, and equity of the student body. Currently the First Year Director of her Student Union, she enjoys advocating for democracy and leadership growth in and out of academic spaces.
Equity, Inclusion and Democratic Rights - Nyla John
Nyla John has been in education and with the Durham District School Board for thirteen years. She made the move to administration in February of 2020.She has been an equity advocate in her classroom, as part of the Durham Black Educators Network and continues in her role as Vice Principal. Nyla works with Department Heads to help develop equity initiatives and plans, works with groups of students within the school on equity strategies and chairs the staff equity book club.
Civics, Democracy and Education - Marija Apostolovski
Marija has been a teacher for nine years now and worked for a variety of schools. We are happy that she has settled with the Dunbarton Family as she brings some stellar skills and passion to her teaching. She loves to teach Politics and Civics through the Canadian and World Studies Department but in her last few years has even taught Spanish. Marija is currently doing her Masters in Social Justice Education and is at the thesis writing stage.
This is a virtual event hosted on the ZOOM platform. We will email the Zoom link to all registrants on the day of the event.
We hope you will join us.