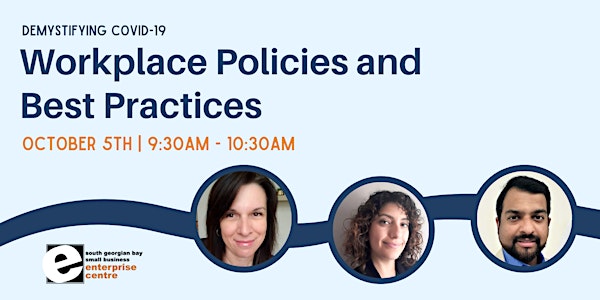 Demystifying Covid-19 Workplace Policies and Best Practices
Demystifying Covid-19 Workplace Policies and Best Practices
About this event
Demystifying Covid-19 Workplace Policies and Best Practices
This interactive webinar provides participants with guidance on how to develop their COVID-19 safety plan and shares useful tips on how to be compliant with the Reopening Ontario Act legislation, including consideration of internal policy development to handle staff vaccinations.
Webinar Description:
Designed for; businesses looking for guidance on how to develop the mandatory COVID-19 Workplace Safety Plan and those seeking guidance on how to properly screen patrons, how to manage capacity limits and what to consider when designing staff vaccination policies.
Please join us for a FREE webinar delivered by Workplace Safety and Prevention Services (WSPS) and the Director of HR at Pace Law Firm. In this session, we will review:
1. Workplace Safety Plan Development – templates and step-by-step instructions on how to complete.
2. Proper Screening Protocols – how to implement and what changes are required at different levels.
3. Posting Capacity Limits – tips to determine what they are at each level and suggestions for how to control this.
4. Free health & safety resources for small business
5. Employers responsibilities to protect staff and how to respond to staff who prefer not to be vaccinated
6. Answering your questions
Q+A - you may submit your questions upon registering or email to sbec@collingwood.ca
Meet the Speakers:
Stella Nicastro-Greenough – Stella is an Account Representative (Small Business) with Workplace Safety & Prevention Services and has over fourteen years' experience assisting customers with their health & safety needs. Stella collaborates with small businesses and community organizations in the Central West region to ensure they have access to the information, tools and resources they need to work safely.
Vicky Waldick – Vicky is an Account Representative (Small Business) with Workplace Safety & Prevention Services. With the organization for 7 years, her focus for the past 3 years has been focusing on helping Small Business Owners in Ontario with easy accessible tools & resources to get them started. She also connects with various communities in her area to share the many simple safety solutions that WSPS has to offer.
Vineeth John - Vineeth John is the Director of HR at Pace Law Firm. Having worked in HR for over 10 years and as a Certified Human Resources Leader, he specializes in HR strategy, organizational development, coaching and policy design.