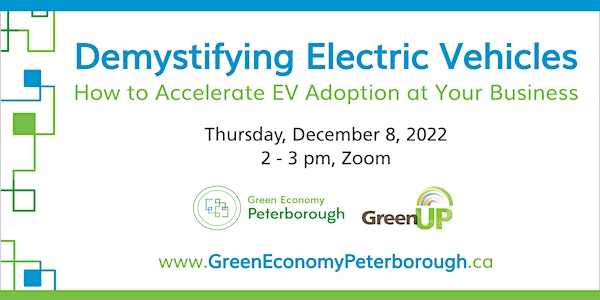 Demystifying Electric Vehicles
How to Accelerate EV Adoption at Your Business
About this event
Are you charged up about the potential for electric vehicles at your workplace? We've galvanized a panel of EV enthusiasts to help you accelerate your electric vehicle rollout. They'll share their experience and answer your questions on the benefits, costs, and what to consider when bringing EV chargers and fleets to your workplace.
EV Charging Station Installation - Hear from Shelley Strain, Sustainability Coordinator at Trent University, on the costs and steps of installing charging stations.
Green Fleets - Learn from Jennifer Heagle, founder of The Red Apron, an Ottawa-based healthy prepared meals and delivery service with a five-vehicle EV fleet.
The Electric City - Welcome James Byrne, Sustainability Coordinator for the City of Peterborough, for an update on local EV initiatives.
EV Charger Incentives - Speak with Donald Jantz of Green Economy Canada about round 2 of their EV Charger Incentive Program for businesses.
This event is presented by Green Economy Peterborough, a business hub that supports local organizations to achieve workplace sustainability goals for their business, community, and environment.
This is the second event in Green Economy Peterborough's 2022/23 event series. To keep informed of local green business events and opportunities: sign up for our newsletter now.