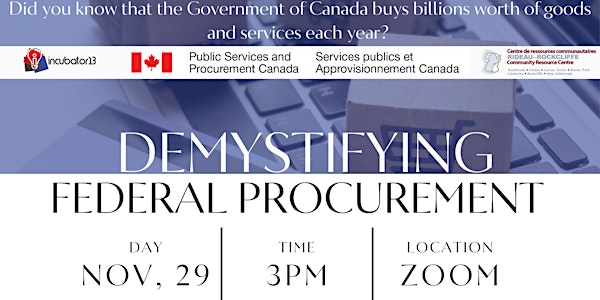 Demystifying Federal Procurement
The Government of Canada wants to help smaller and diverse businesses sell to the government.
About this event
Did you know that the Government of Canada buys billions worth of goods and services each year? Do you think they only buy from big companies? Would you be surprised to learn that many of these contracts are awarded to small businesses in Canada?
Let us help you decide if selling to the Government of Canada is appropriate for you.
Join us to dispel some myths about selling to the government and find out:
• What the government buys
• Who the government buys from
• How the government buys
• Where to find resources and free support for small businesses
Please note this event will be in English. And the zoom link will be sent 1 day prior to the event.
...
Saviez-vous que le gouvernement du Canada achète pour des milliards de biens et services chaque année? Pensez-vous qu'ils n'achètent qu'aux grandes entreprises ? Seriez-vous surpris d'apprendre que bon nombre de ces contrats sont attribués à de petites entreprises au Canada?
Laissez-nous vous aider à décider si vendre au gouvernement du Canada vous convient.
Rejoignez-nous pour dissiper certains mythes sur la vente au gouvernement et découvrez :
• Ce que le gouvernement achète
• À qui le gouvernement achète-t-il ?
• Comment le gouvernement achète
• Où trouver des ressources et une assistance gratuite pour les petites entreprises
Veuillez noter que cet événement sera en anglais. Et le lien zoom sera envoyé 1 jour avant l'événement.