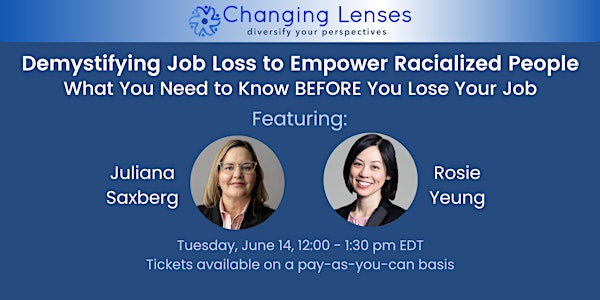 Demystifying Job Loss to Empower Racialized People
What You Need to Know BEFORE You Lose Your Job, from an HR pro and lawyer who've been there. On both sides.
About this event
When I got fired 20 years into my career, I was devastated and scared. But I was also very lucky to be a Certified HR Leader with lots of expertise and access to networks.
Many people aren't so lucky, especially if you belong to a marginalized, non-dominant group.
So Juliana Saxberg (a senior employment, labour, and human rights lawyer) and I (Rosie Yeung, career coach and JEDI Warrior) are putting our lived and professional experiences together to empower you with insider knowledge.
Our sincere hope is that you never lose your job. The sad reality is that systemic racism and inequity leads to racialized people being disproportionately targeted for termination or pressured into quitting. According to this report, the unemployment rate for Black and Indigenous Canadians was 75% higher in 2020 than for white Canadians.
Please note, in this webinar we are NOT providing legal or HR advice; these are professional services offered via individual consultation only. (Attendees will receive a coupon for a free 15-minute consultation on any issue with a lawyer of their choice from Goodlawyer.)
What you WILL learn is:
The employer's perspective and goals in a termination
The difference between termination for cause vs. without cause
Key clauses/watch-out-fors in a termination letter
Common myths and misdirection around terminations
Where to find severance pay information for your province
When and why to hire a lawyer
Losing your job is traumatic and emotional, just about the worst time to decipher legal contracts and HR negotiations. In this webinar, you'll gain key insights on the business/legal stuff so you're better prepared to self-advocate IF it happens to you. (If it's already happened or is about to happen to you, this webinar is for you too!)
Friends, this is a space specially held for people who identify as Black, Indigenous, Latinx, Asian, or any racialized group, working in Canada. Please bring your questions or email them in advance, and join us in Changing Lenses about terminations.
Tickets are available on a pay-as-you-can basis. If the lowest fee ticket price is inaccessible for you, please email info@changinglenses.ca to request a free ticket (limited quantity available).
By registering for this webinar, you will automatically be subscribed to the Changing Lenses JEDI Newsletter. We respect your privacy and do not sell or share your info. You can unsubscribe at any time.
More about Rosie Yeung and Changing Lenses: https://www.changinglenses.ca/
More about Juliana Saxberg: https://www.goodlawyer.ca/profile/julianasaxberg