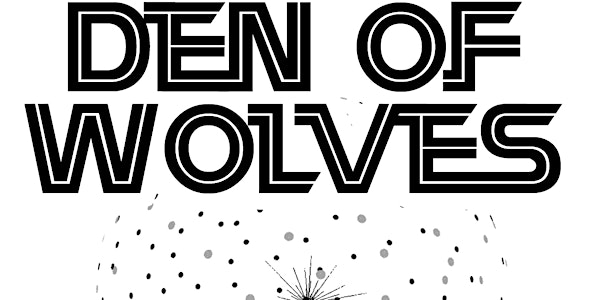 Den of Wolves - Ottawa MegaGames (lunch included)
Date and time
Sat, Jun 15, 2019 9:00 AM - 5:00 PM EDT
Location
Ecclesiax Church 2 Monk Street Ottawa, ON K1S 3Y6 Canada
Description
Den of Wolves is a Megagame about survival, politics, and paranoia as a convoy of surviving spaceships tries to stay one step ahead of their pursuers.
Background
In the 27th Century, the old nations of Earth and new nations of other planets live in relative peace, having formed the Interstellar Council. When one of those new nations, commonly known as Wolf, quit the Interstellar Council it was seen as disruptive and regretable, but not a shock. For decades Wolf has been something of a rouge actor. No one thought anything would come of it.
Then came The Attack. Wolf launched an unprecedented multi-domain assault on the rest of the interstellar community. Their methods were sometimes subtle, such as when the entire leadership of the FSA turned out to be deep cover Wolf agents. Their methods were sometimes overt, such as when a strytium bomb took out the capital habitat of Proxima B. Their methods were thorough, in that 90%+ of the naval capacity, military and civilian, old and new nations, was destroyed, captured, or neutralized.
That remaining 10% is you.
Hastily assembled around the lone Sengstacke-class battle tender in operation is the entirety of the population not under direct Wolf domination. This fleet serves as the remaining main body of the Interstellar Council's naval forces, the Interstellar Council-in-exile, and the new home of thousands of refugees. The Wolves are in pursuit and might do anything to finish off what they started, but you must survive.
FAQs
Q: Wait... People do this for fun?
Yes they do--all over the world! The blog Shut Up & Sit Down made a fabulous documentary of their first experience... as well as a two-part documentary of their second! (Click here for Part II).
Still not convinced (or short on time)? Check out this inspiring, short video of Megagames at PAX.
The UK group Megagame Makers have been going strong for over twenty years, and featured in such newspapers as The Independent.
McGill professors have been hosting megagames for fun and learning for more than fifteen years, where the PaxSims blog is the nexus for all things simulation and gaming. Be sure to check out the (in)famous student-made short on Rex Brynen's annual Brynania Civil War simulation.
Or, for the educationally minded, a video on the EnTRUSTed Hospital Simulation.
Megagames are also used for facilitation work with governments, corporations, international organizations, NGOs, and universities by people such Rex Brynen, Vince Carpini, Tom Fisher, and Jim Wallman.
So... what are you waiting for?!
Q: Ok, but what is a Megagame?

A: Megagames are unique experiential games for 30 to 300 players - part model UN, part board game, part live-action role play - and all fun! They are driven by narrative rather than victory points, and often built as lifelike simulations of the real world with a fantastical twist. Megagames are written to make the players feel, think, experience, and learn.

Megagames are sweeping the globe as the newest, most unique experiences a gamer can find.


Q: What is Den of Wolves?

A: Den of Wolves is a Megagame that's been getting a lot of heat worldwide. It's been run several times in the UK, in places like New Zealand, Sweden, Switzerland, and now we're bringing it to North America. Inspired by Battlestar Galactica, teams represent different spaceships in a fleet escaping a near-extinction event and trying to survive. Can you negotiate the resources you need for your people? Can you keep the Wolves from catching up to you? What other dangers don't you know about yet?

Q: But I've never done this before!

A: Don't worry, neither had we. You'll be a pro in no time.

We will send you an information package 1-2 weeks before the event date for you to review game mechanics, your role, and background storyline.

Megagames are designed to be learned on the fly, just like real life. They are about experiencing a storyline, rather than mapping out a path to victory. In a Megagame, it is much better to die a legendary death that your friends, new and old, will tell tales of for all time, rather than attempt to beat everybody in a race to the finish.

Above all, experienced players and the control team (aka, the game facilitators) are very nice. We won't let you do anything too silly- unless you want to!


Q: Do I need to buy tickets in a team?

A: It's recommended you find a team to play with before you buy tickets, but if you don't have a group, you can buy an individual ticket. We recommend looking for a team that has some tickets already bought and joining them.

Also, send us a message at OttawaMegaGames@gmail.com and we will make sure you're connected with new or old friends.


Q: What happens if I buy a ticket and can't attend?

A: Unfortunately, we will not offer refunds for this event. Please let us know if you cannot attend or if you find someone to go in your stead to ensure that all roles are included


Q: What will I do for food and hydration?

A: We'll have a half hour break for lunch. A lunch box is included in the price of admission. Please let us know at OttawaMegaGames@gmail.com if you have specific dietary needs.

We recommend drinking plenty of water. There are sinks for filling water bottles in the venue.

We are currently organizing catering and an after-event meetup space. We'll keep you updated with details.


Q: Are costumes required?

A: No, but they are encouraged. Some people find it more fun to have science conferences in a lab coat, or deliver a press conference in a tie. However, we ask that you be culturally conscious when dressing from a different nation; we're playing characters, not caricatures. Please be considerate of strong scents as some players might be chemically sensitive.


Q: What should I bring?

A: Bring a copy of the briefing and the rules for each section, a water bottle and small snack. As we said, costumes are welcomed but not required.

Most importantly, bring an open mind and a thirst for adventure!


Q: How accessible is this game?

A: The Ecclesiax has a ramp leading up to the front door. All gaming will be done on the main floor, but we might send a portion of people downstairs for lunch. There's an accessible washroom on the main floor, and more washrooms downstairs. Also note that most roles in this game require players to be mobile throughout the day, but at least one role per team could be stationary. If you have specific accessibility concerns the control team would be happy to help and we encourage you to reach out to us, through FB or email, before the event so we can make this a better experience for you.


Q: Will there be any photo and/or videography?

A: Please note that there will be periodic photo and videography at this event. By purchasing a ticket for the event, you consent to potentially being photographed and videotaped and possibly having a photograph or video of you used and shared by Ottawa MegaGames. Please let us know if you have specific concerns.


Q: How should I treat other players?
A: We are so proud to bring you this event, and we want to make sure every player gets an engaging and fulfilling experience. This requires the cooperation of all players to make this fun for everyone. If you are found to be disrupting the event by harassing other players, including racist, sexist or otherwise bigoted remarks, you will be reprimanded as the game control sees fit, up to and including expulsion from the game without refund. The venue also reserves the right to remove individuals who are not respectful (e.g. moving/altering components of the museum) of the environment.


Q: Where can I contact the organizer with any questions?

A: Contact the Ottawa Megagames team at OttawaMegaGames@gmail.com, on the Ottawa MegaGames FB page, or the Den of Wolves FB event page.

If you have any other questions, please feel free to let us know! We like to think we're pretty friendly people and will do whatever we can to help.