Dental Practice Management-BOOT CAMP-RCDSO Core 3 Credits - December 2, 201...
Description
Creative Tax Planning, Financial Plan and Investment Advice

Top 10 Tax Tips for Dentists
Learn How to Set up a Financial and Tax Plan
Learn strategies to Maximize your Savings and build efficient investment portfolios
Starting a Dental Practice from Scratch
Learn the ABC's on how to Design, Equip, Build, Market, Finance and Practice Manage a successful new start-up practice
Includes a special Module on Best Practice Location Selection, Construction Tips and Marketing Strategies
Learn how to build wealth using real estate in the dental industry
Financial Due Diligence When Purchasing a Dental Practice
Learn the ins and outs of negotiating the best dental practice purchase deal and dental practice valuation tips
Financing for Dentists
Learn the 123's on financing a start-up or dental practice purchase
Legal Tips for Dentists
Learn the Top 5 Legal traps in a lease
Learn the importance of legal due diligence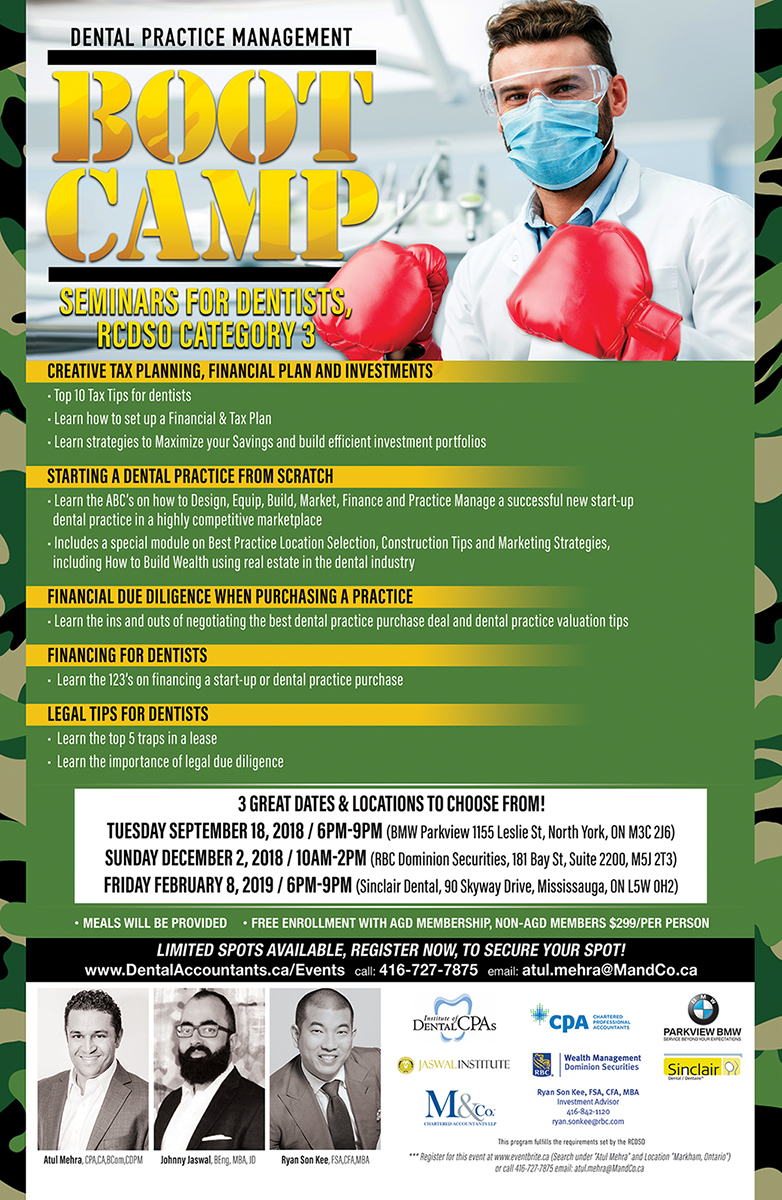 Organizer of Dental Practice Management-BOOT CAMP-RCDSO Core 3 Credits - December 2, 2018
Mr. Atul Mehra, CA, CPA holds a Honours Bachelor of Commerce Degree from York University, a designation as a Chartered Accountant in Canada, Chartered Professional Accountant in Canada, Certified Public Accountant in the USA and a Certificate in Dental Practice Management from the University of Toronto - Faculty of Dentistry. His accounting and tax practice provides services exclusively to Dentists.