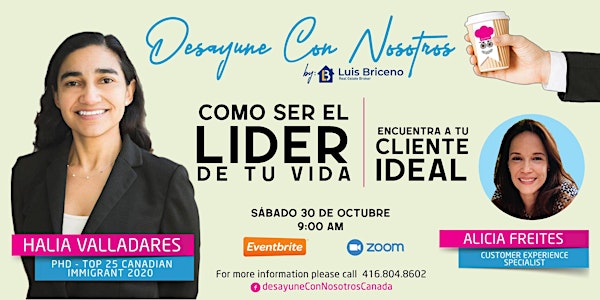 Desayune Con Nosotros
Thanks for your interest in attending to DesayuneConNosotros. These words translated into English mean, JoinUsForBreakFast DesayuneConNos
About this event
Thanks for your interest in attending to DesayuneConNosotros. These words translated into English mean, JoinUsForBreakfast
DesayuneConNosotros aim is to social integration and to create opportunities for professional and personal growth through informative events and workshops and by providing a great environment to connect with influential people and experts in a variety of fields and occupations.
We have been conducted our event in Toronto and the Great Toronto Area for over 5 years
Next Saturday, October 30 at 9 am, we will be honored with a great keynote speaker. Her name is Halia Valladares. 
Dr. valladares brings and interesting theme designed specially for this occasion, based on her professional and academic experience
"How to become the Leader of Your Life"
Halia Valladares is an Academic Dean at Quest University. She is a sessional faculty member at Thompson Rivers University, and Managing Partner at Global Trading & DS, Inc. In addition, Halia has been Casa Mexico Foundation's Vancouver Director and served in the Board of the West Vancouver Chamber of Commerce as Director.
She is former special projects Advisor to the Vice-President Academic at Capilano University and former Dean of the Faculty of Business and Professional Studies at CapU. Halia has been a business professional in leadership positions for over two decades. She has been a university Professor and scholar for the past 17 years. She has served in different administrative positions in universities in different countries for over 12 years. She also has international business experience in the private sector, and was the Traffic, Shipping and Receiving Supervisor for a Fortune 100 Corporation.
She earned her Doctoral Degree in Economics and Business Administration from Burgos University, Spain. She also holds a MBA in International Trade and a Master of Science in International Logistics from Texas A & M International University, USA and she is a Certified International Trade Professional in Canada (FITT-CITP). Halia has participated in over 60 international conferences as speaker. She has authored more than 20 research publications for journals, book chapters and books in Mexico, Spain, Canada, Colombia, Venezuela, Pakistan, Cuba, USA, etc.
Dr. Valladares has also been awarded with RBC's Top 25 Immigrants of 2020
Specialties: International Logistics and Trade.
Scientific research in Business Ethics, Management Accounting, International logistics and Econophysics.
*************
Special participation : Alicia Freites (Customer Experience Specialist) will provide the audience with great insights on "How to find the Ideal Client"
Thanks for your interest. It will be great to be your host
**** Although we conduct events in both languages English and Spanish, this event will be conducted only in Spanish with no translation ******
This event is free. It is our way to show appreciation for all those who have decided to follow us and support us
This event will take place in ZOOM. The link will be send to those who have successfully registered registered
Visit us at www.facebook.com/groups/DesayuneConNosotros/ or our page www.facebook.com/DesayuneConNosotrosCanada/
Host and Organizer Luis Briceno Realtor
About the Organizer:
Luis Briceno is a community-sensitive professional that works in the Real Estate industry in the Great Toronto Area. Luis has a passion for bringing people and communities together. He is part of the Toronto Hispanic Chamber Of Commerce's Board and believes that integration and visibility are key factors for communities empowerment. 
 ** Happy members of Vivir En Toronto #VivirEnToronto / #Toronto / #GreatToronto / #Canada
visit us at www.facebook.com/groups/vivirEnToronto/
 The following a picture was taken by Luis Briceno (Junior) at our last on premise event