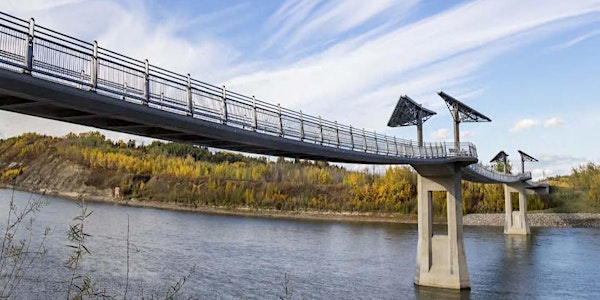 Design and Construction of the Terwillegar Park Stressed Ribbon Footbridge
Location
University of Alberta Faculty Club
11435 Saskatchewan Drive
Edmonton, Alberta
Canada
Description
Abstract
In January 2013, the City of Edmonton called for proposals for a new 300 m (990 ft.) footbridge across the North Saskatchewan River. Consultants were challenged to develop concepts that were innovative, fit the context of the deep natural river valley, and could meet strict budget and schedule requirements. In October 2016, the longest and first multi-span stressed ribbon bridge in Canada was opened to the public. It is the second longest in the world.
The Terwillegar Park Footbridge was designed by Stantec Consulting Ltd and forms a key link in the river valley park system. Although stressed ribbon bridges are relatively common in Europe, there are only a handful constructed to date in North America. Stressed ribbon bridges can be described as precast concrete structures that are erected segmentally on cables and post-tensioned to achieve a continuous, slender, prestressed concrete structure. The superstructure is stressed between two abutments which are fixed to the ground using an extensive system of ground anchors. These elegant and durable structures are constructed without expansion joints.
The presentation will describe the conceptual and preliminary design process and share lessons learned in the design and construction of this elegant and innovative structure.
Presenter Bio:
Dr. Reed M. Ellis is the Vice President and global Bridge Sector Leader at Stantec. He is a bridge structural engineering specialist with over 30 years of bridge engineering experience. He has been involved in the inspection, design, rehabilitation, project management, and construction management of all types bridge engineering projects, as well as structural failure investigations, expert testimony, and reports. This has included projects throughout Canada and in the U.S., the Caribbean, China, Pakistan, and the Middle East. He is a member of many technical organizations including the IABMAS Scientific Committee and Bridge Management Committee, TRB Committees AHD30 Bridge Preservation and AHD35 Bridge Management, Transportation Association of Canada (TAC) Structures Standing Committee, and ACI (past Alberta chapter president).