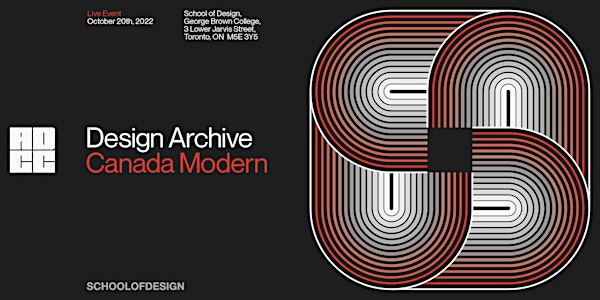 Design Archive: Canada Modern
An exhibition celebrating Canadian modernist graphic design from the golden era: 1960—1985
When and where
Location
School of Design, George Brown College 3 Lower Jarvis St Toronto, ON M5E 3Y5 Canada
About this event
The ADCC is proud to present Design Archive - a month-long exhibition featuring a selection of Canadian graphic design from the Canada Modern collection.
Join us on Thursday, October 20 for a live event featuring guest speakers Blair Thomson and Glenn Fretz.
The exhibition will feature original artefacts that encapsulate the collection, particularly in the area of identity, typography and graphic communication. Posters, books, manuals, literature, stamps and ephemera will form a strong representation and be on display. Work from studios such as Gottschalk+Ash, Burton Kramer Associates, Paul Arthur+Associates, Design Collaborative, Gilles Robert et associés, Norman B Hathaway Associates, Studio Guy Lalumière, Cooper & Beatty, Perception Design... and many others will all be showcased. Many unseen pieces will feature ahead of being listed on canadamodern.org
This month-long exhibition and event is supported by the School of Design, George Brown College.
EVENT SCHEDULE
6:30 pm - Doors open
7:15 pm - Talk by guest speakers Blair Thomson and Glenn Fretz
9:30pm - End of event
Please note: Event schedule is subject to change.
TICKETS
Non-Members - $20
ADCC Members - $10
Prices subject to tax and Eventbrite fees. Maximum 1 ticket per individual Member at the discounted rate.
ADCC MEMBERS: Enter your promotional code to access your discounted ticket. Codes will be emailed to all members.
FEATURED SPEAKERS
Blair Thomson
Blair Thomson is the founder, archivist, custodian and creative director of Canada Modern
Born in Toronto, Blair moved to the UK as a teenager where he went on to train and cut his teeth in the industry. In 2015, he returned to Canada permanently. On his return he established the Canada Modern archive, a physical collection and study of Canadian graphic design from 1960—1985. Through this important endeavour, Blair champions, educates and inspires the world with this remarkable body of work, created at a pivotal time in Canadian design history. He guest lectures at the School of Visual Arts, New York on Canadian Design and the International Typographic Style, and held an associate producer role on Greg Durrell's feature length documentary film 'Design Canada', that also celebrates this important period.
Blair is also the founder and creative director of design practice Believe in, and the co-author of the book Graphic Stamps by revered design publishers Unit Editions in London, England.
Glenn Fretz
Glenn Fretz is a Canadian graphic designer with over 50 years of experience working out of Toronto and Waterloo, Ontario.
Born in Grimsby, Ontario in 1948, Glenn started his career in Kitchener as a teenage sign-painter. His real interest was design and he couldn't resist designing symbols for his employer's clients – even if they weren't willing to pay for them. Following a year at Ontario College of Art in 1967 and a visit to Expo 67, he applied for work in Toronto. Norman B Hathaway Associates (NBHA) offered him his first opportunity. At NBHA, he worked for clients such as Gillette, Rowntree Mackintosh, Welch's and the Ford Motor Company. In 1972, the firm was commissioned to develop a visual identity program for the Government of Ontario. Glenn was selected to redesign the Trillium symbol. From 1973-75, he worked with Paul Arthur + Associates and Paul Arthur Limited with offices in Toronto, NYC and Portland. He became the VP in charge of the Toronto office. Subsequent partnerships with Anthony Goodhoofd and Metafour Communications led to overseeing the identity change of Massey Ferguson to Varity Corporation in 1985.
Over the years, Glenn has created more than 100 symbols for corporate, non-profit, government, educational and church-related clients. He retired his commercial practice in 2020, and today spends time focused on personal creative pursuits including a work-in-progress memoir. Glenn is grateful for the initiative that Blair Thomson has taken with Canada Modern to provide a safe haven and accessibility for his archive materials – which would have continued to gather dust in a filing cabinet or found their way into a landfill.
EXHIBITION FEATURING
Design Archive will feature work from Canada's modernist golden era: 1960—1965 - including work from the following designers and projects:
EVENT COVID-19 POLICIES:
This event is subject to George Brown College's COVID-19 protocols and may change based on any updates to their regulations.
As of September 15, 2022: George Brown College lifted its mask mandate on June 20, but remains a mask-friendly environment, and masks are available at main campus entrances.
This page will continue to be updated if policies change. Attendees will also receive an email confirming policies before the event on October 20th.
TITLE SPONSOR
Located in the downtown core, George Brown College's School of Design is home to 12 academic programs that prepare learners to be the design industry's next thought leaders and changemakers. Our programs and close ties to industry offer an applied, studio-based focus that make us a top destination for design across the country.
PRINTING SPONSOR
Widely considered to be Canada's most innovative & versatile printer, Flash has been collaborating with designers & ad agencies to produce award-winning results since 1969. Our years of experience have prepared us to manage any printing project you bring our way, from large to small – offset, digital, screen or letterpress.
ABOUT THE ADCC
The Advertising & Design Club of Canada (ADCC) is a non-profit, non-political group dedicated to encouraging excellence in Canadian advertising and design. The Club's overall goals are simply these: to inspire creativity, to provide a forum for the exchange of ideas, to forge a sense of community and integrity among advertising and design professionals.
ABOUT CANADA MODERN
Canada Modern exists to preserve, document, educate and inspire, to build a new and richer understanding of what can clearly be seen as a seminal point in Canada's development as a nation — one of optimism, growth and modernity. At the heart of this work lies identity design, typography and graphic communication. The archive's purpose is to build a definitive and accessible record of this significant epoch, and a valuable reference for designers, students, teachers, historians and citizens alike.
Well-known names such as Allan Fleming, Rolf Harder, Ernst Roch, Burton Kramer, Stuart Ash, Fritz Gottschalk, Georges Huel, Hans Kleefeld are often seen as the most celebrated, but there were many more who made a significant contribution, and through this project we aim to celebrate their work and credit the roles they played. Perhaps through a greater understanding of Canada's first golden era of design we can begin the process of heralding a new one.