Description
Do you ever wonder how a great brand design comes to life?
Join us at Miami Ad School Toronto for a night of show and tell with two exceptional brand design companies. HUGE and Art & Mechanical. Our executive-level speakers will share some of their case studies and the process they went through to bring them to life. If you're a student who's interested in the design process or a professional that needs some inspiration then now's your chance to learn from some of the top designers in the city.
Who should attend:
- Creatives (Designers, Art Directors, Copywriters)
- Project Managers
- Industry professionals
- UX/UI Designers
- Post-grad students
- Brand Managers

What you'll learn:
- The design process from inception to development to execution.
- The linear progression of the design process
- How to go from the brief to your solution
- Best practices and tips from top creatives.

---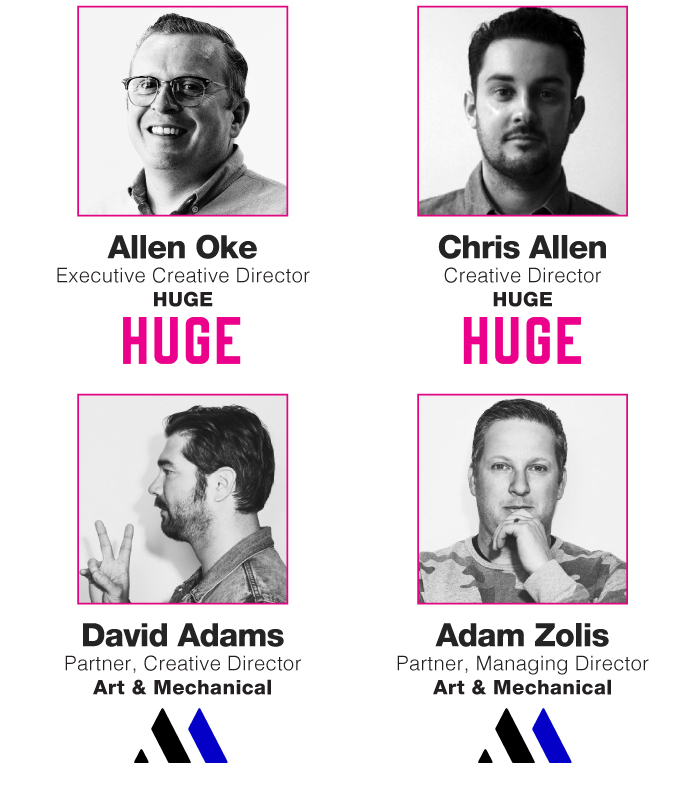 ---
About Allen
Allen is an Executive Creative Director with over 20 years of experience in all areas of marketing. Starting as a writer, he has enjoyed using creativity to make work that works, and deliver business results for a wide range of brands such as Cineplex, Audi, Nissan, Bell, Interac, Visa, Gatorade, Harley-Davidson, Four Seasons, Canadian Tire and Unilever to name a few. At Huge, Allen oversees a multi-disciplinary design team that includes Experience Design, Visual Design, and Integrated Art & Copy communications who apply the principles of user experience to everything a brand touches. He's lead his team to push the confines of the brief, and find success for brands in ways often times quite unconventional. Because of this, their work has been recognized at Cannes, D&AD, Clios, The ADCCs, Webby's, the FWA amongst others.
About Chris
Chris Allen is a Creative Director with experience in many disciplines including brand identity, art and creative direction, packaging, interactive and environments. As Creative Director at Huge, Chris creates experiences that transform brands, grow businesses and improve people's lives. Chris has had the pleasure of working with brands such as Canadian Tire, McDonald's, Google, Ballet BC, Bing Thom Architects, Bocci, CBC, Four Seasons Hotels and Resorts, Indigo, Lululemon, Native Shoes and Reigning Champ. Before joining Huge, Chris was a founding member of Inventory Magazine and worked in various agencies in Vancouver. Chris's work has been honored by institutions such as the ADDC, Applied Arts, Communication Arts, Lotus and One Show.
About David
David's experience spans a broad range of brand and iden­tity programs working closely with organizations of all sizes – from entrepreneurial start-ups to global leaders. With a hands-on approach to both strategic and creative processes, he delivers distinct content and creates memorable experi­ences. His work is widely published and recognized by major national and international publications, annuals and blogs. In the creative community, he regularly volunteers his time to networks and organizations. He's on the ADCC Board of Directors and is an active juror for creative competitions. David owns a mug that says, "he'd rather be fly-fishing."
About Adam
Adam's marketing communication experience crosses multiple disciplines having held senior leadership positions in PR, Advertising and Design. His years of experience working with national, international and start-up brands are invaluable in helping shape A&M's approach and long-term strategy, all the while providing strategic counsel for all the agency's clients. Often likened to a unicorn, his ability to build brands in strategic, imaginative ways, and his passion for developing and nurturing strong relationships between agency and client are a true rarity.
Doors open at 6:30 PM and the keynote talk starts at 7 PM. Soft drinks and snacks will be provided.
Ready to jumpstart your design career? Learn more about our 2-year Digital Design Portfolio program starting in April 2019.