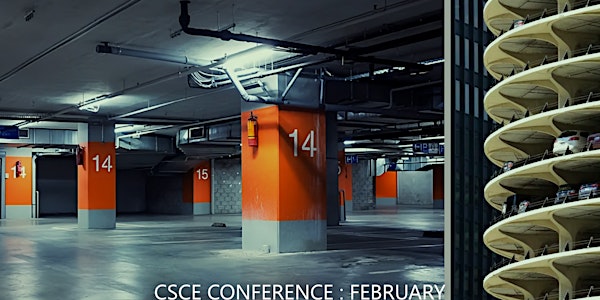 Design for Durability: CSA S413 Parking Structure (POSTPONED)
A presentation on the modifications of the new CSA S413 standard for parking structures, as well as good practices in design.
By Société Canadienne de Génie Civil / CSCE Montreal
Location
Maison des étudiants - Pavillion E , ETS 1220 Notre-Dame Street West Montreal, QC H3C 1K5 Canada
Refund Policy
Refunds up to 1 day before event
Eventbrite's fee is nonrefundable.
About this event
Postponed
We are sorry to inform you that our event scheduled for the 23rd of February has been postponed due to bad weather conditions. The event is being rescheduled to a later date, possibly at the end of April, and we will keep you informed as soon as possible. We hope you will be able to join us on the new date, and we thank you for your patience and understanding. Please note that you can request a cancellation and refund of your event registration at any time via Eventbrite. You can contact us directly at infomontreal@scgcquebec.ca if there is a problem.
Conference of the CSCE Montreal Section
The CSCE Montreal section invites you to attend a conference on February 23, 2023, where Darren Wint, an Associate Engineer at RJC Engineering Firm, will be the keynote speaker. This conference will provide an overview of the latest edition of the CSA S413 Parking Structure Standard and good practices in parking structure design and maintenance. The conference will also include a networking cocktail from 5pm to 8pm where attendees will have the chance to meet and discuss the topic with our keynote speaker and other industry professionals over refreshments.
Summary of the presentation
The presentation will focus on the modifications of the new 2019 version of the CSA S413 standard for parking structures, as well as good practices in design. Darren Wint, an Associate at RJC Engineering, will be the keynote speaker and will provide insights from his extensive experience in the field. More importantly, the presentation will be an opportunity for attendees to engage in discussions and ask questions about the new standard and how it can be applied in real-world projects. Don't miss this chance to stay informed and connect with your peers in the field of parking structure engineering.
About the speaker
Darren Wint is an experienced engineer with a background in designing commercial buildings, shopping centers, residential high-rise projects, and transit facilities. He is particularly well-known for designing award-winning parking structures. As an Associate at RJC Engineers, Darren has led the completion of several large parking facilities for Metrolinx, including the Erindale GO Station, and is currently the Structural Design Lead for the Laird, Leaside, and Mt Pleasant LRT stations on the Eglinton Crosstown project. He is also actively involved in the Canadian Parking Association and currently serves as the Chair of the Technical Committee on Parking Structures (CSA S413).
Details
The presentation is free for CSCE Members and student CSCE Members. For all other invitees, the presentation is offered at a cost of 40$.
The event starts with networking cocktail at 5 pm (free wine offered) and is followed by the presentation between 6 pm and 7 pm. The cocktail resumes until 8 pm.
A certificate for professional development hours will only be given.
Presentation Location: École de Technologie Supérieure | Pavillon E |  Local E-2033
About the organizer
La section de Montréal de la SCGC offre de la formation continue, accréditée par l'OIQ, des visites de chantiers ainsi que des activités de réseautages. Société savante, fondée en 1887 par d'éminents ingénieurs civils canadiens, elle a pour but de développer et maintenir les standards élevés de la profession de génie civil.