Design Nerd Jam 5.5 - BIOMIMICRY + LIVING BUILDINGS

Friday, April 29, 2011 from 6:00 PM to 9:00 PM (PDT)
Event Details
On April 28th, Design Nerds are teaming up with the Biomimicry Group, Cascadia Green Building Council and their Emerging Green Builders to bring you one AWESOMELY inspiring Jam.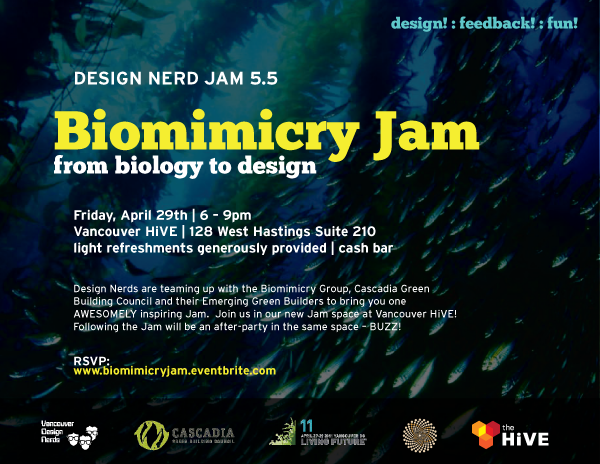 The evening will kick off with a presentation from the Biomimicry Group which will focus on one organism local to the Pacific North West. This will be the kindling for the Jam session to answer the questions – What can we learn from this organism's genius for being well-adapted within the Vancouver context?  Does this organism offer design principles trending toward the Living Building Challenge performance standard?
Proposed Agenda

6:00-6:30pm: arrive, eat, drink, meet other nerds
6:30 - 7pm: presentation process - VDN (5min)

Living Building Challenge Video (10 min)
Biomimicry Group (25min)
Challenge presented / break out groups assigned

short break
7:30 - 8:15pm: divide into groups and begin Jamming on ideas (45min)
8:30 - 8:50pm: each group presents their ideas for 2-5 minutes
8:50pm: attendees vote /  comment on ideas (with stickies)
9pm: sign up to an email list to carry forth the discussions, encourage networking
Party!

What is Nerd Jam?
Initiated to foster multidisciplinary collaboration between designers and artists of all persuasions, the Design Nerd Jams are a forum for creative people to discuss their projects and ideas.

What is Biomimicry?
Biomimicry is learning from and then emulating natural forms, processes, and ecosystems to create more sustainable designs.  It's studying a leaf to invent a better solar cell or an electric eel to make a better battery.  The core idea is that nature has already solved many of the problems we are grappling with:  energy, food production, climate control, benign chemistry, transportation, packaging, and more.  Mimicking these earth-savvy designs can help humans leapfrog to technologies that sip energy, shave material use, reject toxins, and work as a system to create conditions conducive to life.

What is The Living Building Challenge?
When & Where

HiVE Vancouver
128 West Hastings Street
Suite 210
Vancouver, British Columbia
Canada

Friday, April 29, 2011 from 6:00 PM to 9:00 PM (PDT)
Add to my calendar
Organizer
Vancouver Design Nerds:
The Vancouver Design Nerds are a network of collaborating designers and artists who share a desire to engage design opportunities with a spirit of creative play and to challenge the normative environment of the city. The diversity of the group enriches the design process and propels discussion far beyond the prescribed parameters of a project, revealing opportunities and unanticipated, often surprising results.