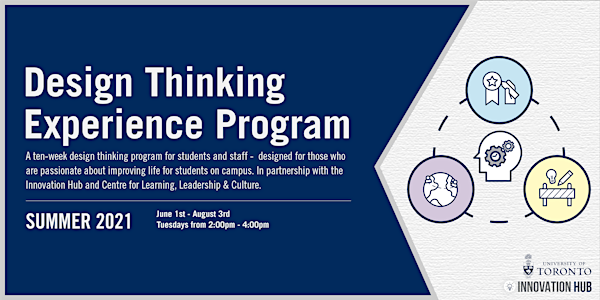 Design Thinking Experience Program (Summer 2021) Information Session 1
Learn more about the Innovation Hub and Centre for Learning, Leadership & Culture's 10-week Design Thinking Experience Program.
About this event
In partnership with the Centre for Learning, Leadership & Culture, the Innovation Hub is launching a Design Thinking Experience Program for staff & students! Bring your passion for improving campus life to this 10-week series where you'll have the opportunity to learn design thinking methodologies geared towards enhancing life at U of T. Participants will be prototyping chosen and assigned projects.
Design thinking and the qualitative research skills that accompany it are effective tools for reimagining what existing on-campus services and programs might look like, and for visioning entirely new ones. Participants will have the opportunity to learn about – and practice – designing with rather than for students and other stakeholder groups all the way from inspiration to implementation. Design thinking illuminates how the best solutions come from insights into human behaviour – expand your program development toolkit with this case-based learning opportunity and, on its application, see enhanced engagement levels and program success! Ground yourself in the central principles of design thinking like human-centered design to architect and further culture change at the University.
Attend this info session to learn if this program is the right fit for you!
Once you register for this event you will be sent a confirmation email that your spot is reserved for the Zoom session in this series. A secure Zoom link will be emailed to registrants 24 hours and one hour before the event start time.
The University of Toronto Innovation Hub is an institution-wide initiative that partners with internal divisions, departments, and student organizations to conduct empathy-based research that deepens understanding of the campus experience, so that we can design with students rather than for students.