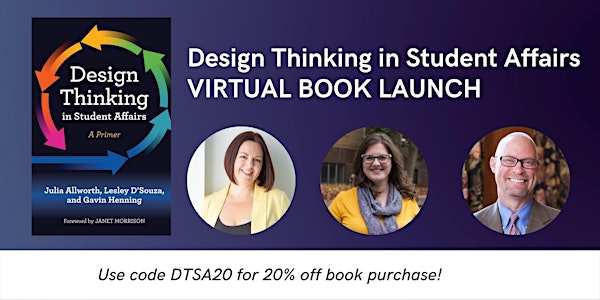 Design Thinking in Student Affairs Book Launch
A virtual gathering to launch Design Thinking in Student Affairs - a new book to help practitioners design human-centred supports.
About this event
Written by Julia Allworth, Lesley D'Souza, and Gavin Henning, this book focuses on how practitioners can structure empathy into their work, and design systems that meet the true needs of students. Join us at this virtual launch to hear from the authors, students, and experts about how this book can help you in your work.
Buy the book now and save 20% using code DTSA20: https://bit.ly/DesignThinkinginSA
A link to the virtual event will be sent in a reminder a few days prior to the event.
More about the book:
"Design Thinking in Student Affairs: A Primer constitutes such an important and timely contribution to the literature. By focusing equally on the theory, mindset, and practice of design thinking, the book fills a gap by providing a roadmap for theoretically informed practice and culture change. Authored by trusted colleagues with expertise in leadership, innovation, assessment, storytelling, equity, organizational development, change management, and student success in both Canada and the United States—the book makes a compelling case for using design thinking to facilitate human-centered, cocreated, high-impact solutions within and beyond the traditional realm of student affairs.
Given the unprecedented combination of new and exacerbated challenges facing our colleges and universities—decreasing government funding, student mental health and well-being, diversity and inclusion efforts, and affordability chief among them—who among us doesn't need another arrow in their quiver?"—From the Foreword by Janet Morrison, President and Vice Chancellor of Sheridan College, Ontario, Canada