Description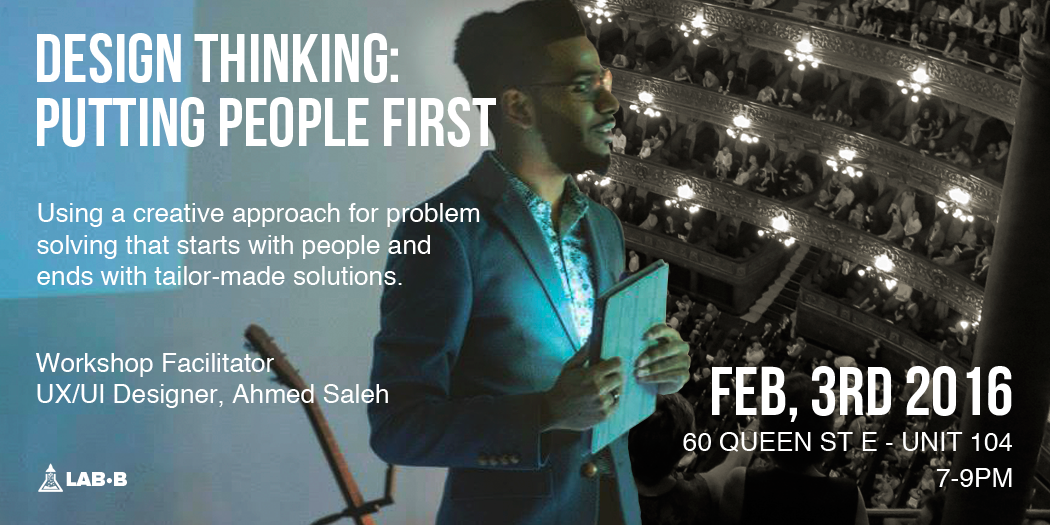 Design Thinking: Putting People First
Human-centred design is a creative approach to problem solving that puts people at the heart of the process. Instead of designing products, services, spaces or systems for profit alone, this methodology focuses on starting with people first and building from their needs. Developing deep empathy, generating ideas, building prototypes and sharing what you've made are all a part of the practice.
Human-centred design can be used across industries and sectors to approach any amount of challenges. The three phases include Inspiration, Ideation and Implementation. In the end, know that your solution will be a success because you kept the people you want to serve at every stage of the process. (More information with a video can be found here - http://www.designkit.org/human-centered-design)
In this fun hands-on workshop you will learn about each phase and work through each component below:
1. Inspiration
Identifying a design challenge

Learning about who you're designing for

Researching with history, data and context
2. Ideation
How to have a creative brainstorming session

How to make a rapid prototype

How to give/take feedback and iterate
3. Implementation
Live prototyping

Launching a pilot

Defining what success looks like
By the end of the workshop you will understand what Human-centred design is and how to use it while connecting with other like-minded peers in the community.

THIS IS A FREE EVENT. RSVP NOW. LIMITED SEATING.


Photographs and Video Footage will be taken.




Accessible and Regular parking is free after 6pm at:


Rose Theatre Brampton (2 min walk)
1 Theatre Lane, Brampton, ON L6V 0A3

City of Brampton Garage (5 min walk)
2 Wellington Street West

West Tower Garage (5 min walk)
41 George Street South
Accessibility
LAB B is committed to accessibility for persons with disabilities. Please contact us 2 weeks prior to the event if you have any particular accommodation requirements at harman@lab-b.ca
If you can't make it after all:
LAB B is a non-profit organization that strives to provide great events for the benefit of the community. These events are regularly free, and therefore spots can fill up fast. Be sure to open up your spot if you can't use it. In other words, If you RSVP and are unable to make the event, please cancel your reservation or notify us at create@lab-b.ca.