Design TV with Laimina Methuselha, CEO at Global Assist
#virtualassistance #Bookkeeping #EmailMarketing #ContentMarketing #DigitalMarketing
About this event
Join us LIVE 4:00pm Nov 18th Video Podcast with Design TV @DesignTelevision
Our special guest is Laimina Methuselha Founder and CEO at Global Assist https://theglobalassist.com/ IWB Founding Member
@DesignTelevision Design TV Facebook Design TV YouTube
Global Assist is 360-degree REMOTE BUSINESS SOLUTIONS gives you specialist virtual (offshore) teams for nearly every office task and business role. We have specialized skilled resources located in Canada, the Philippines and India.
Our fast, qualified & accountable team of professionals act as a seamless extension of your office business verticals such as Back-Office, HR & Recruiting, Business Development & Sales, Digital Marketing and Technology Projects,
At Global Assist we aim to bring the best talents from across world to help businesses grow.
I would love to introduce all of you to our VA's and the services they excell in to help you understand better about the different sector we provide services for.
#socialmedia #growth #virtualassistantservices #executiveassistant #administrativeassistant #realestate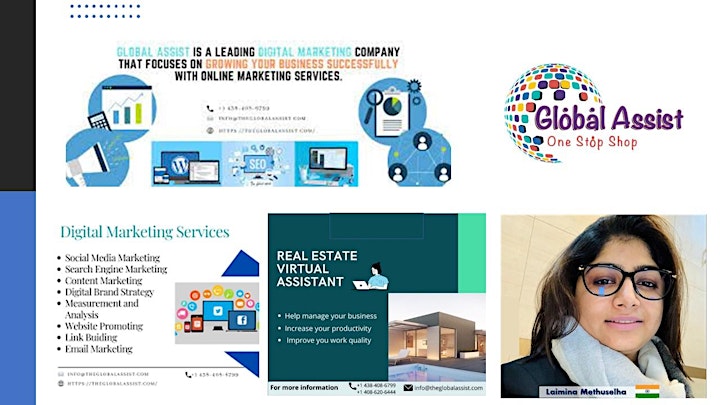 Organizer of Design TV with Laimina Methuselha, CEO at Global Assist
IWB is a non-profit social enterprise association. IWB specializes in integrated multicultural joint ventures that help organizations, governments and private corporations engage and connect with Canada's diverse ethno-cultural communities to build profile and brands. Our members are committed to improving the world through positive leadership, compassion and dedication to learning, growing and giving. http://immigrantwomeninbusiness.com