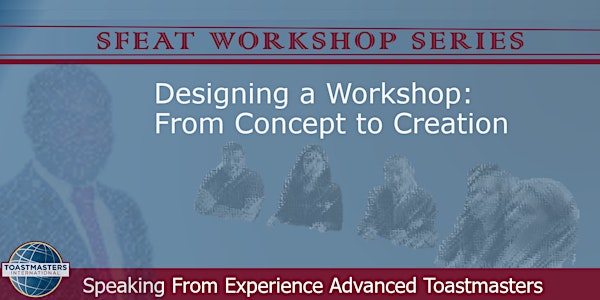 Designing a Workshop: From Concept to Creation
SFEAT is pleased to announce the next in a series of workshop skills development. Gain the benefits from improved presentation skills.
About this event
Join us in the design of SFEAT member Michel's workshop:
Participate in the creation of Michel's new workshop.
Collaborate with other's in his workshop development.
Learn a process for building an effective session.
Here's what you get at each Workshop Training session:
Participate in designing member workshops.
Showcase examples of a step-by-step creation process.
Develop your content for presentations.
Participants evaluate each presentation, including: discussion, identify strengths, and suggest improvements.
Available slots: SHORT sessions (10-20 minute) or FULL session (1-1.5 hour).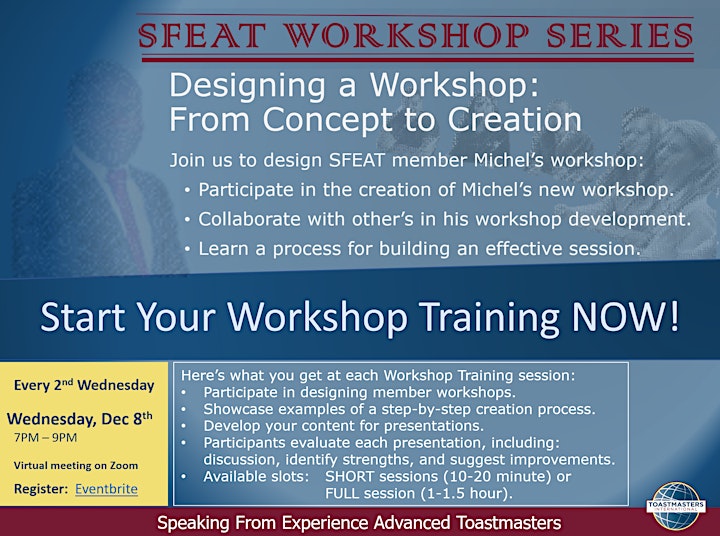 In preparation for this event, consider attending District 60 Workshop Bureau's event:
Creating Your Toastmasters Workshop: Part 2 Delivery
Saturday, Dec 4th 2021 2-4 PM
Register at EVENTBRITE: https://www.eventbrite.ca/e/creating-your-toastmasters-workshop-part-2-delivery-tickets-211889165197