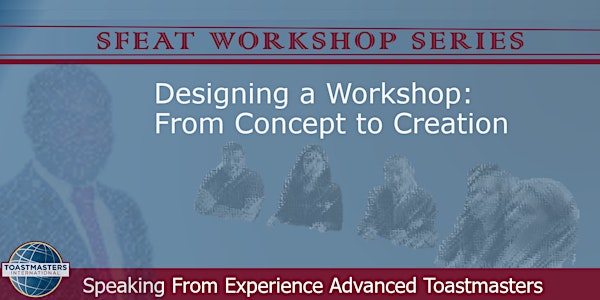 Designing a Workshop: From Concept to Creation
SFEAT is pleased to announce the next in a series of workshop skills development. Gain the benefits from improved presentation skills.
About this event
Join us in the design of SFEAT member Michel's workshop:
Participate in the creation of Michel's new workshop.
Collaborate with other's in his workshop development.
Learn a process for building an effective session.
Here's what you get at each Workshop Training session:
Participate in designing member workshops.
Showcase examples of a step-by-step creation process.
Develop your content for presentations.
Participants evaluate each presentation, including: discussion, identify strengths, and suggest improvements.
Available slots: SHORT sessions (10-20 minute) or FULL session (1-1.5 hour).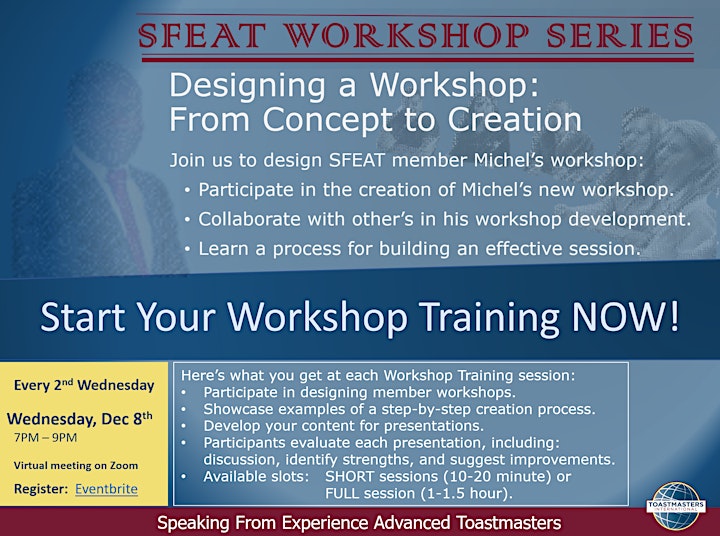 In preparation for this event, consider attending District 60 Workshop Bureau's event:
Creating Your Toastmasters Workshop: Part 2 Delivery
Saturday, Dec 4th 2021 2-4 PM
Register at EVENTBRITE: https://www.eventbrite.ca/e/creating-your-toastmasters-workshop-part-2-delivery-tickets-211889165197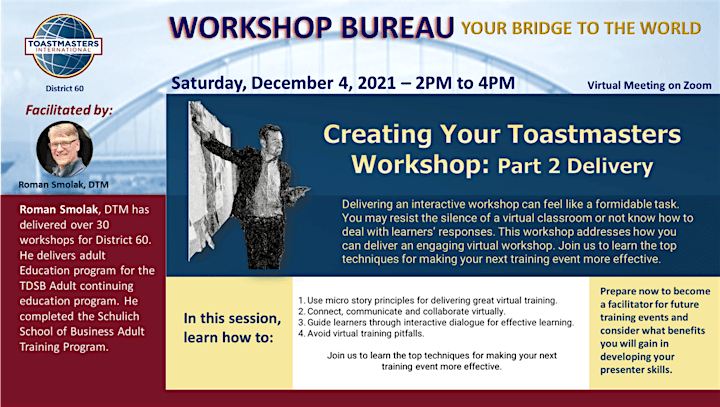 Organizer of Designing a Workshop: From Concept to Creation
Toastmasters International is a world leader in communication and leadership development.
Speaking From Experience Advanced Toastmasters Club is an advanced club that meets in west Toronto. SFEAT objectives are to provide members with the opportunity to deliver prepared speeches, workshops and receive helpful, constructive evaluations.
Our advanced club is open to members who have completed a CC. Our program allocates half the meeting towards balanced evaluations of both the speaker and the evaluator.
We meet every 1st, 3rd and 5th Wednesday of the month, 7-9PM, at the Applewood Shaver House, 450 The West Mall, Toronto.
Further SFEAT details at: http://1818485.toastmastersclubs.org/
All guests and public are welcome to visit.