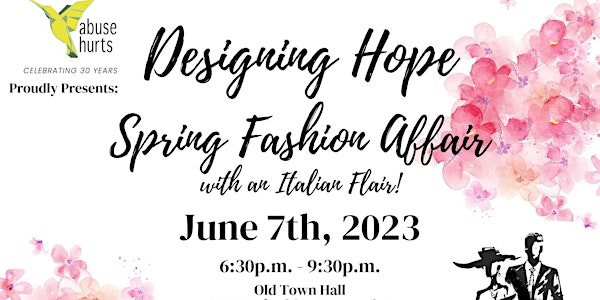 Designing Hope Spring Fashion Affair - with an Italian Flair!
Enjoy delicious food, an Italian theme and watch local celebrities model beautiful fashions - all in support of Abuse Hurts.
Date and time
Wed, Jun 7, 2023 6:30 PM - 9:30 PM EDT
Location
Old Town Hall 460 Botsford Street Newmarket, ON L3Y 1T1 Canada
About this event
Abuse Hurts is proud to present the Designing Hope Spring Fashion Affair with an Italian Flair event in support of Abuse Hurts. It will be a night of delicious refreshments, an elegant silent auction with unique treasures, and an area for shopping from high end local fashion retailers. The highlight of the evening will be a fashion show with clothing supplied by the select vendors and modelled by many local 'celebrities' and well-known personalities in the community. There will be a special program printed for attendees about the event and also filled with valuable, take-home content.
Designing Hope is the first event in 2023 to celebrate Abuse Hurts' 30th Anniversary. Its team of staff, volunteers and supporters are excited to bring this joyous event to the community to help celebrate their milestone and also bring much-needed hope to York Region and beyond. The support of sponsorship will aid the charity in assisting the thousands of clients they serve each year and help make this a pinnacle event for York Region this Spring.
Stay tuned for list of sponsors and VIP models.
About the organizer
Announcing Noojimowin Biinj Debwewin – "Healing IN Truth" – a three-part documentary film series presented in the Fall of 2021 to raise public awareness of injustices committed against Canada's Indigenous Peoples. Each screening is followed by a panel discussion between survivors, knowledge-keepers and documentary makers to help both educate viewers and present paths to healing, reconciliation and prevention. Join us for these powerful, impactful and life-changing narratives as truth is given a voice and healing can begin as that voice is heard.
Movie #2 – Oct 26th – nîpawistamâsowin: We Will Stand Up Tasha Hubbard Warning: this film contains graphic content and is recommended for audiences 16 years of age and older. On August 9, 2016, a young Cree man named Colten Boushie died from a gunshot to the back of his head after entering Gerald Stanley's rural property with his friends. The jury's subsequent acquittal of Stanley captured international attention, raising questions about racism embedded within Canada's legal system and propelling Colten's family to national and international stages in their pursuit of justice. Sensitively directed by Tasha Hubbard, nîpawistamâsowin: We Will Stand Up weaves a profound narrative encompassing the filmmaker's own adoption, the stark history of colonialism on the Prairies, and a vision of a future where Indigenous children can live safely on their homelands.