Join Designing The Movies For A Screening of IN THE MOOD FOR LOVE -- New Restoration!
About this event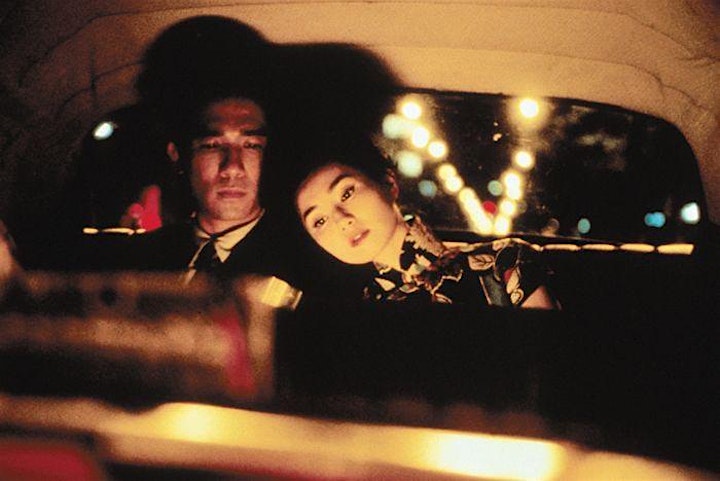 Designing the Movies: In the Mood for Love
"It is always too early or too late for love in a Wong Kar-wai film," Roger Ebert wrote in his original review, "and his characters spend their days in yearnings and regrets." Such is the case with lonely neighbours Maggie Cheung and Tony Leung in Wong Kar-Wai's atmospheric In the Mood for Love.
New 4K restoration, presented with an introduction by series host Nathalie Atkinson
The drama about unrequited love is set in a Shanghainese community in 1962 Hong Kong, and the intimacy and sadness of their platonic longing is intensified with lush, saturated colour. Rooms are bathed in red and the story is framed with impressionistic lowered glances and glimpses of their lives—down corridors, around corners, refracted and reflected in mirrors, and shimmering slow-motion scenes where they brush past one another in narrow spaces.
To create this haunting images Kar-Wai turned to his frequent creative collaborators, the cinematographer Christopher Doyle and William Chang, who edited, art-directed, and costumed the movie. There's a seamless visual rhythm to the stylized dreamscape and layer upon layer of texture, from rooms lined in boldly printed wallpapers to Cheung's deep wardrobe of patterned cheongsams. It's all so immersive and tactile that watching In the Mood for Love, you also somehow feel part of it. It's more like the emotional experience of a memory than a movie. - NATHALIE ATKINSON
About The Film
In the Mood for Love (2000)
Dir. Wong Kar-wai, 98mins
Starring Maggie Cheung and Tony Leung
*SEATING WILL BE RESERVED AT THE DOOR. PLEASE ENSURE YOU ARRIVE EARLY TO RESERVE A GOOD SEAT.
As part of the provincial government's vaccine certificate program, which was announced in September, everyone will be required to show that they received both doses of an approved COVID-19 vaccine at least 14 days earlier in order to enter the cinema for this event.
Everyone must bring either their paper vaccine receipt or PDF vaccine receipt available online, along with photo ID to prove that they have been fully immunized.
Regular admission applies. For INDIVIDUAL MEMBERSHIPS ($350) and FAMILY MEMBERSHIPS, please email us at info@revuecinema.ca to get a ticket!
Organizer of Designing The Movies: IN THE MOOD FOR LOVE
The recently renovated Revue Cinema is Toronto's premier not-for-profit community cinema. We offer great second-run Hollywood fare, insightful programming like our Silent Revue series — where classics from the silent era are accompanied on live piano — Food in Film, Designing the Movies, annual galas, retrospectives & numerous other community offerings. The Revue opened in 1912, making it the oldest operating cinema in Toronto. Support us by becoming a member & enjoy great perks throughout the entire year!