Join DESIGNING THE MOVIES for their holiday season set screening of THE APARTMENT!
About this event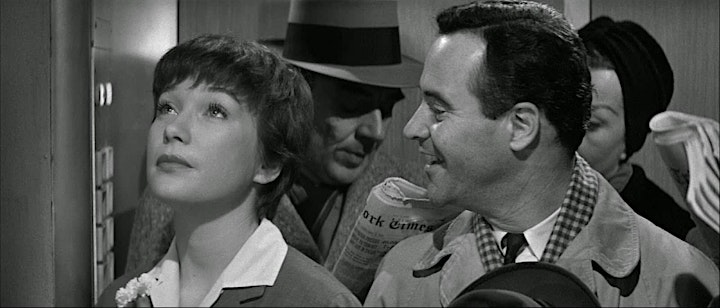 "It's a real nice apartment—just right for a bachelor."
Set during the painfully lonely holiday season, The Apartment is a melancholy rom-com that strikes a perfect tragicomic balance as it explores romantic disillusion, toxic corporate culture, and gaslighting. CC Baxter (Jack Lemmon) is a lonely insurance company worker climbing the management ranks at work—steadily rising as long as his married colleagues (like boss Sheldrake, played by Fred MacMurray) make liberal use of his apartment for their extramarital affairs. Baxter's office crush is elevator attendant Fran Kubelik (Shirley MacLaine), who's got relationship troubles of her own. Filmed in black and white and shot in dramatic Cinemascope, The Apartment won five Academy Awards—in addition to the Oscar for Best Picture, it garnered Best Art Direction of a Black and White Movie for production designer Alexandre Trauner and Canadian set decorator Edward G. Boyle. - NATHALIE ATKINSON
Presented with an introduction to Billy Wilder's collaborations with designers Charles and Ray Eames, and a closer look at the movie's Academy Award-winning sets, by series host Nathalie Atkinson.
ABOUT THE FILM
The Apartment,
USA, 1960, 125mins, PG
Directed by Billy Wilder
Stars Jack Lemmon, Shirley MacLaine, and Fred MacMurray
Art director Alexandre Trauner, Set decorator Edward G. Boyle
About Designing the Movies
Created and hosted by culture writer and film critic Nathalie Atkinson, a columnist for The Globe and Mail, Designing the Movies makes elements of design (like art direction, costume, sets) the lens for analysis. Each screening is introduced with a slide show and an expert talk or special guest Q&A. Follow us on FB and Instagram.
As part of the provincial government's vaccine certificate program, which was announced in September, everyone will be required to show that they received both doses of an approved COVID-19 vaccine at least 14 days earlier in order to enter the cinema for this event.
Everyone must bring either their paper vaccine receipt or PDF vaccine receipt available online, along with photo ID to prove that they have been fully immunized.
Regular admission applies. For INDIVIDUAL MEMBERSHIPS ($350) and FAMILY MEMBERSHIPS, please email us at info@revuecinema.ca to get a ticket!
Organizer of Designing The Movies: THE APARTMENT (1960)
The recently renovated Revue Cinema is Toronto's premier not-for-profit community cinema. We offer great second-run Hollywood fare, insightful programming like our Silent Revue series — where classics from the silent era are accompanied on live piano — Food in Film, Designing the Movies, annual galas, retrospectives & numerous other community offerings. The Revue opened in 1912, making it the oldest operating cinema in Toronto. Support us by becoming a member & enjoy great perks throughout the entire year!