Join Designing The Movies For The Spy Classic, THE IPCRESS FILE!
About this event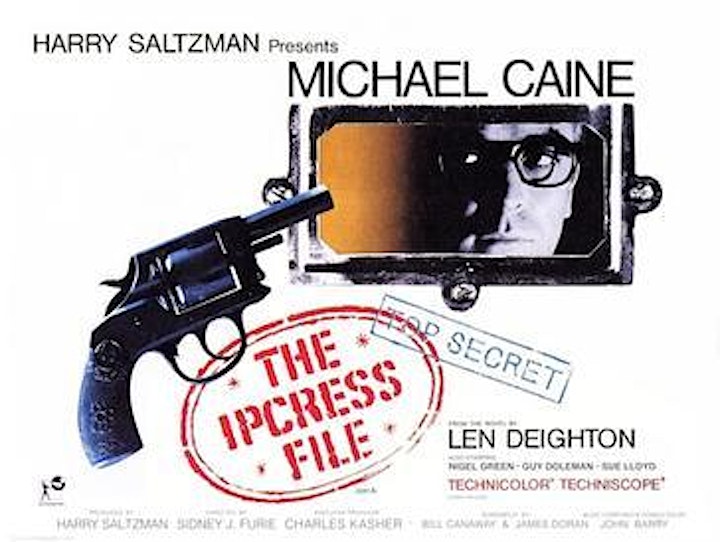 About the film
The Ipcress File
England, 1965 109min. 
Directed by Sidney J. Furie
Starring Michael Caine, Nigel Green, and Sue Lloyd
James Bond but make him Cockney! The first in a series based on Len Deighton's bestselling thrillers about reluctant British spy Harry Palmer (Michael Caine) is directed by Canadian-born Sidney Furie. As the everyman anti-hero on the trail of a dangerous top secret research file, Caine can't help but epitomize Sixties cool. This witty, gritty caper was made by the same team as the lavish 007 movies of the era (producer Harry Saltzman, production designer Ken Adam) and while Caine's insubordinate may be a gourmet who grinds his own coffee beans, this is espionage on a budget that deglamorizes the genre: our Harry drives a Ford. Presented with an introduction to the style of 1960s espionage movies by series host Nathalie Atkinson.
About Designing the Movies
Created and hosted by journalist Nathalie Atkinson, Designing the Movies is the Revue Cinema's monthly film series that makes art direction, set decoration, costume, and production design the lens for analysis. Each screening features an expert introduction and visual essay.

Organizer of Designing The Movies: THE IPCRESS FILE (1965)
The recently renovated Revue Cinema is Toronto's premier not-for-profit community cinema. We offer great second-run Hollywood fare, insightful programming like our Silent Revue series — where classics from the silent era are accompanied on live piano — Food in Film, Designing the Movies, annual galas, retrospectives & numerous other community offerings. The Revue opened in 1912, making it the oldest operating cinema in Toronto. Support us by becoming a member & enjoy great perks throughout the entire year!