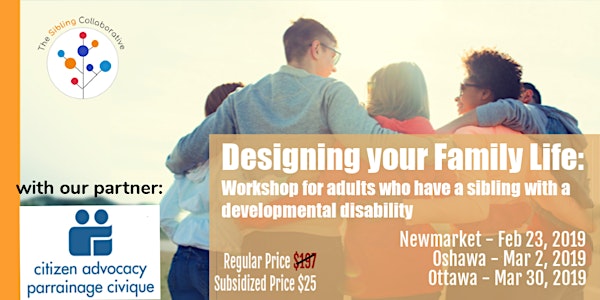 Designing Your Family Life;For Adults With A Sib w Developmental Disability
Location
Ontario Canada
Newmarket/ Oshawa/ Ottawa
ON
Canada
Description
Connect with other siblings who understand you, design your family life rather than living by default, and learn strategies to help you and your family live life to the fullest.


The Designing Your Family Life Workshop leads adult siblings (18+) through a strengths-based process of Thinking Differently, Living Differently and Feeling Differently to create the life you want for yourself and your family.
We Understand Siblings
As the sibling of a person with an intellectual or developmental disability, your experience of growing up was not the same as your peers. You saw your parents giving extra attention to your sibling, you pitched in doing extra chores, you stayed out of trouble and most of all – you cared.
As you got older you left home and experienced the world, while your sibling stayed home and didn't have the same opportunities. You felt guilty. As you grow your career and family there is a looming feeling when you think about what is going to happen when your parents can no longer provide care for your sibling. When you eventually move into the role of the go-to person for your sibling you can fall into crisis trying to maintain your family life, your career, your health, your parent's declining health, and your sibling's life.
It doesn't have to be this way! The journey doesn't have to be lonely. You don't have to live in guilt. The crisis doesn't always have to strike. You can design a life for you and your family that is connected to other people who are supportive, you can create a loving home for your sibling, and you can get your sibling the supports they need to meet their needs. You can do all of this by living a full and happy life yourself, and we will show you how.


In This Workshop You Will:
Connect with other adult siblings, and feel understood.

Understand the life journey of an adult sibling.

Create a positive vision of the future for you and your family.

Learn the importance of building and deepening relationships.

Discover how to create a loving home.

Learn to navigate the social system to have your family's needs met.

Strengthen your well-being, the well-being of your family and the community.
This workshop is grounded in relational frame theory, mindfulness, and social role valorization theories, and delivered through the C.A.R.E. model ™ developed by the Sibling Collaborative.
Meet The Facilitators:
Helen Ries: Helen is a co-founder of the Sibling Collaborative, she is also an independent planning and evaluation consultant, facilitator and community activist. She is also the sister and primary support for her brother, a person with a developmental disability. Helen has been her brother's go-to person since the unexpected passing of her parents, and she is creating a great life for herself and her family. Helen has gained a deep understanding of siblings through her personal experience, her research and by supporting many adult siblings.

Eric Goll: Eric is a co-founder of the Sibling Collaborative, the founder of Empowering Ability podcasts, a family coach, and the brother to a sister with a developmental disability. Eric has supported his family through a major life transformation, including his sister moving into a home of her own, building a support team with his sister, and helping his sister become engaged in the community. Eric is a certified coach and works with families that have a loved one with a developmental disability to create the life they want.
Tickets:
The cost of a ticket to attend this workshop is $197, however, through the generosity of our partners, we have been able to reduce the ticket price to $25. Tickets are limited! Get your ticket now to secure your spot in this life-changing workshop. Your ticket purchase also includes lunch!
*If the cost of admission is a barrier for you please contact our partner organizations for the workshop you desire to attend.
Select from 3 Workshop Dates:
Newmarket Workshop: February 23, 2019 [9 AM - 5 PM]
In partnership with Family Support Network - Newmarket. Please contact Susan Popper (spopper52@gmail.com) for ticket and venue information.

Oshawa Workshop: March 2, 2019 [9 AM - 5 PM]
In partnership with DAFRS and Durham Family Network. Please contact Selena Blake (SBlake@dafrs.com) or Sumaira Khalid (thedurhamfamilynetwork@gmail.com) for ticket and venue information.
Ottawa Workshop: March 30, 2019 [9 AM - 5 PM] at Best Western City Centre, 1274 Carling Ave
In partnership with Citizen Advocacy Ottawa. Please contact Corey Fortier (cfortier@citizenadvocacy.org) for or more information.
https://www.citizenadvocacy.org/seeding-innovation-through-knowledge-workshop-series/