Sales Have Ended
Ticket sales have ended
Ticket sales for this event have ended. To learn more about DesignJam events please visit http://designjam.ocadu.ca or email designjam@ocadu.ca
Sales Have Ended
Ticket sales have ended
Ticket sales for this event have ended. To learn more about DesignJam events please visit http://designjam.ocadu.ca or email designjam@ocadu.ca
Description

A DesignJam presentation
---
Flourishing Business Design
Wed Feb 4, 2015, 9am–1pm
205 Richmond Street West, 5th fl, Rm 7510

How can we create and be part of business that is financially rewarding, socially responsive, and environmentally regenerative — flourishing business? In this workshop we'll use a new visual studio approach to designing flourishing business.
Participants will explore a process enabling leaders and collaborative teams systematically to envision and design factors necessary for flourishing enterprise. We introduce a toolset developed at OCAD University by the Strongly Sustainable Business Model Group (SSBMG) – namely the Flourishing Business Canvas.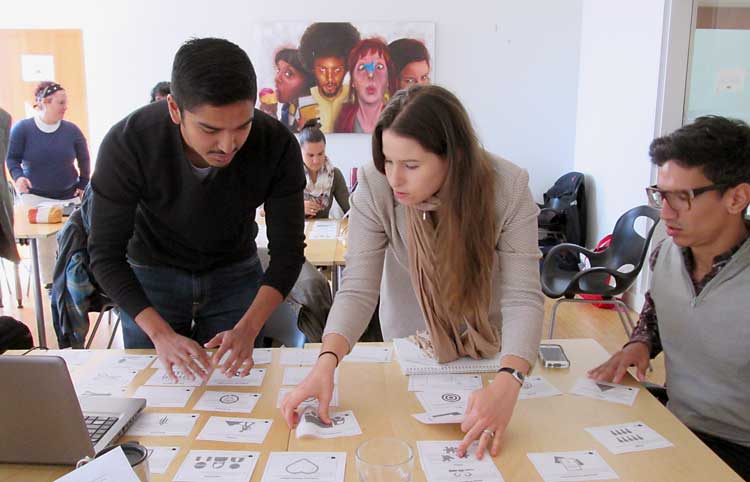 Photo: School for Social Entrepreneurship Ontario (SSE-O)
Come discover next-generation collaborative visual design tools for modeling flourishing enterprises in any sector. You'll be equipped to begin using the processes and tools to evaluate firms and envision new initiatives. You will:
Learn and understand an innovative approach to co-creating business models based on economic, social, and environmentally-effective design principles

Gain appreciation of challenges facing leaders as they move their organizations toward flourishing, and a set of tools for managing those challenges

Discover the next generation collaborative visual model design tools for modelling flourishing enterprises in any sector

Be equipped to begin use the tool after the workshop in the evaluation of existing enterprises, and to envision new initiatives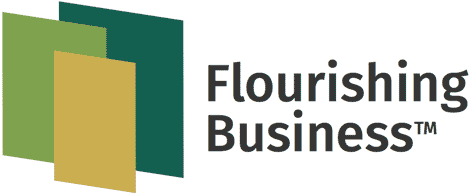 Participants will explore the design and elements of flourishing enterprises by co-creating business model concepts with a new visual design tool that supports an organization's inquiry and movement toward strong sustainability[1]. In small groups we will discover challenges imposed on current business models by socio-cultural-economic norms, and review key future design principles required for flourishing business models.

We will then explore an expanded set of business model elements required to describe a flourishing enterprise included in the tool. Attendees will gain practical experience using a case study of a certified Benefit (B) Corporation. Such companies share a goal of creating a more environmentally, social and economically impactful enterprise, consistent with the aims of strong sustainability.
In groups we'll envision a future business model – selecting a case to work on – using the tool and design principles to define elements that enable flourishing outcomes for all human and non-human stakeholders. Participants will take away their work as a case study and "leadership lens" for their own business. All will be invited to share in an appreciative design critique of the tools, and offer feedback for its evolution and further development.

About the Facilitators

Stephen Davies is Managing Director of Transformation by Design, a business design consultancy based in Toronto. His practice is powered by 25+ years of management consulting experience across a wide variety of sectors. Mr. Davies teaches Strategy Development in OCAD University's MDes Strategic Foresight & Innovation program. He is a Certified Master Designer and Facilitator for the Team Syntegrity process invented by Professor Stafford Beer, the founder of Management Cybernetics.

Antony Upward is a recent graduate of York University with a Masters of Environmental Studies in Business Model Design and Sustainability. He is a Certified Management Consultant with 26 years' experience in the design and implementation of management information systems for companies such as Apple, Bell Canada, CGI and AT&T. Anthony is an OCAD University Industry Partner and a co-founder of sLab's Strongly Sustainable Business Model Group. He is a Sustainability Business Architect and Principal of Edward James Consulting Ltd., a flourishing enterprise design consultancy in Toronto.

[1] Strong sustainability, a term defined by Ecological Economists, defines the conditions for a flourishing and resilient society. Resilient, strong, sustainable society is defined as "the possibility for human and all other life to flourish on this planet forever" –John Ehrenfeld.
---
Workshop is free with a refundable $50 deposit

Registration is first come, first served to a maximum of 24. To register for a DesignJam workshop requires a $50 deposit. Attendees receive a refund of ticket price (minus handling fee). If you are unable to attend for any reason let us know 24 hours in advance for a refund. We regret that failure to do so may result in the loss of your deposit. A post-workshop survey must be completed within four (4) days of the event for deposit to be refunded. Why require a deposit when the workshop is free? The deposit is to avoid no-shows – it is a proven way to ensure attendance or timely cancellation when necessary.
Organizer of DesignJam - Flourishing Business Design - Feb 4, 2015
Strategic Innovation Lab (sLab) is a centre for research and innovation at OCAD University. sLab integrates applied research, professional engagement, education and skills development to assist private, public, and not-for-profit organizations attain their goals. sLab trans-disciplinary teams draw on the growing SFI community of researchers and practitioners, design and business professionals, teachers and students, who are passionate about creative economies and sustainable futures. slab.ocadu.ca