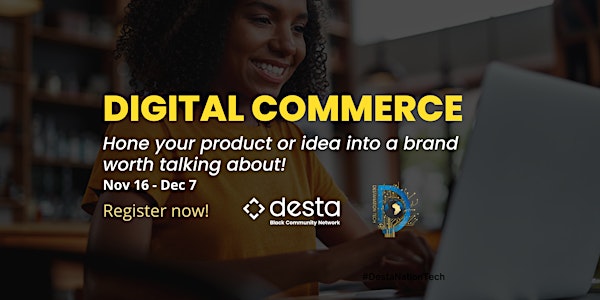 DestaNation Tech: Digital Commerce Course
Get started in the world of Direct To Consumer (DTC) ,by learning the skills and tools needed to launch and grow your business!
About this event
About the Course
Do you make something that all your friends and family think you should sell but don't know where to start? Are you a creator who's looking to make more money through your art? Do you simply want to know what to do when you finally get that million-dollar idea or work for one of your favorite brands? Then say hello to Digital Commerce! Taking this course will help you get started in the wild world of Direct To Consumer (DTC), you will learn the skills and tools needed to start, launch and grow a business in today's digital age. While many courses focus on e-commerce exclusively, we will also explore in-person selling, experiential marketing, social selling, and all the other channels that make up an omnichannel business.
You'll learn how to hone your product or idea into a brand worth talking about, and how to navigate selling in person through platforms like Etsy, Shopify, Square, and more! From there we will explore the world of digital marketing. Choosing the right platforms, creating your digital marketing plan, and how to manage your day-to-day marketing. Finally, we will wrap up the course with a deep dive into business operations ranging from shipping to accounting and finish up with an exploration of the fundraising options should you seek to raise the funds you need to start or grow your business.
This class will include case studies featuring real businesses, and group discussions and provide you with tools and templates to help you on your journey.
Dates: Beginning November 16 to December 7th.
Day of the week: Every Wednesday for 4 weeks.
Time: 6-8 pm
Location: Online
About DestaNation Tech: An employability and entrepreneurship program aimed at overcoming employment barriers faced by English-speaking Black youth in Montreal. Pparticipants have access to: Skills Training Workshops, Mentorship, Job Placement Agency, opportunities with the DestaNation Creative Agency, Networking Events.
About Desta Black Community Network: Based in Little Burgundy and serving participants across Greater Montreal, DESTA offers access to a hub of services and partnerships that empower the Black community through programs rooted in social and economic justice. We offer holistic, individualized services and advocacy to promote well-being and opportunity. Learn more about DESTA here