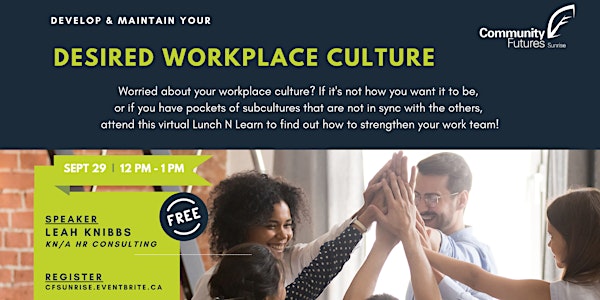 Develop & Maintain Your Desired Workplace Culture
Want to develop and maintain an amazing workplace culture? Attend this free Lunch N Learn to find out how!
About this event
Worried about your workplace culture?
Is it not how you want it to be? Do you have a great work culture and want to make sure it stays that way?
If you answer 'YES!' then you will get value from attending the virtual Lunch N Learn session: Develop and Maintain Your Desired Workplace Culture.
This FREE learning session is good for all sizes of businesses and organizations. We will discuss: what is culture, how to design your culture and how to maintain it. Additionally, actions to develop and maintain the workplace culture will be discussed.
Kn/a HR Consulting is happy to be your guide in helping you to develop and maintain your desired workplace culture.
About our speaker, Leah Knibbs from Kn/a HR Consulting: