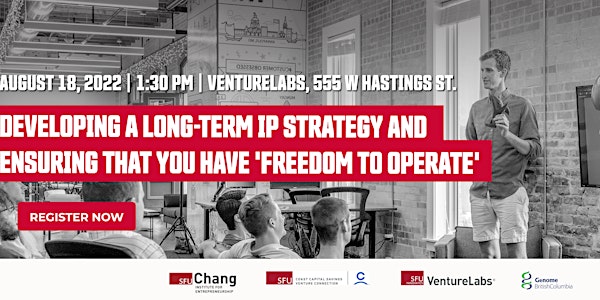 Developing a Long-term IP Strategy
This workshop highlights how SFU supports its entrepreneurs in understanding how to optimize their Intellectual Property strategy.
When and where
Location
SFU VentureLabs 555 West Hastings Street #suite 1100 Vancouver, BC V6B 4N6 Canada
About this event
Developing a Long-term IP Strategy and Ensuring that you have 'Freedom to Operate'
Join panel moderator Neil Branda, Executive Director at 4D Labs, for a workshop for Science and Technology Entrepreneurs that are commercializing Intellectual Property. IPs can be the basis of a company and important for partnering, raising capital and market access.
Learn from industry veterans. Register for this workshop and understand how the Invention to Innovation (i2I)/Science Entrepreneur Accelerator program developed by SFU supports entrepreneurs across many of BC's tech markets and growth sectors in North America.
Date: August 18, 2022
Time: 1:30 - 3:00 PM PDT
Location: SFU VentureLabs, 11th floor concourse 555 W Hastings St Suite #1100, Vancouver
You will receive the Zoom link to the event after registering.
If you require assistance with registration or accessing the event link, please contact Krysta Vander Helm at eec_changinstitute@sfu.ca.
Format
In-person event. Attendees are encouraged to join the event in-person at VentureLabs' 11th floor concourse (#1100, 555 W Hastings St). A Zoom link will be sent after registering for those who cannot join in person.
Presented by SFU's Chang Institute and Coast Capital Venture Connection in partnership with SFU VentureLabs and GenomeBC.
FACILITATORS
Kamaldeep (Kam) Singh
Kamaldeep is the Director of Technology Licensing & IP Legal Counsel at Simon Fraser University. As a silicon Valley veteran, he's an expert in intellectual property, technology transfer, patent support and commercialization.
Elizabeta Cubaleska
Elizabeta is the Senior Manager of Patent Services at Questel, "End to End, Integrated IP". Elizabeta is very familiar with commercialization of technologies from Universities and will focus on 'Freedom to Operate' when you commercialize.
Cynthia Shippam
Cynthia is is an Industry Technical Advisor (ITA) with the National Research Council (NRC-IRAP). IRAP works with SMEs to support growth through innovation. Cynthia brings to her role as an ITA more than 20 years' experience in research, technology transfer, commercialization and intellectual property protection with SMEs. She has developed and managed intellectual property in a variety of industries, both in private practice and in-house. Her academic and professional experience (PhD, MBA, Patent Agent) provides her with a broad technical background in life sciences, including: research in agriculture and infectious disease models; assessment, protection and commercialization of novel chemical entities; bioinformatics; assay development; and medical devices.
The Charles Chang Institute for Entrepreneurship is the interdisciplinary home and academic hub for entrepreneurship and innovation at Simon Fraser University within the Beedie School of Business and in partnership with all SFU Faculties. Here, a diverse network of people and ideas converge to create an environment that fosters entrepreneurial thinking and action. The Institute brings together SFU students, faculty, researchers, and community leaders and welcomes entrepreneurs and innovators everywhere to engage and collaborate at the local and global levels.

Venture Connection offers SFU startups the place to grow their business in an interdisciplinary community of experts, mentors and alumni. We help SFU's most talented and ambitious entrepreneurs to turn their ideas into successful and sustainable businesses.

VentureLabs® accelerates science, technology, and innovation-based companies that have winning value propositions and strong potential to scale up. Based in Vancouver, B.C., our programs and services are tailored to each company's needs to not just grow but grow smart. We connect entrepreneurs with experienced mentors and a network of resources focused on tackling the unique challenges and complexities faced by technology innovators.